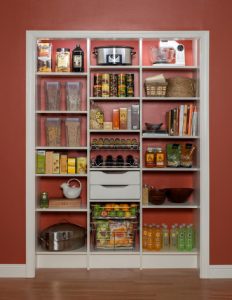 'Tis the season for parties, presents, festive décor, and pantry cabinets that are filled to the brim to accommodate house guests and holiday baking. It is also the season for clutter. With a few simple organizational tools and strategies, you can ease the stress and frustration of the holiday season so that you can enjoy quality time with friends and family.
Kitchen and Pantry
The kitchen is the heart of the home. It is the one place everyone seems to gather no matter the occasion. This is even more relevant if you are going to have houseguests or are planning a holiday party. A crucial part of the kitchen is your pantry. A well- organized pantry must start with the right system to most effectively fit your needs.
Choose from a wide range of Arizona Garage & Closet Design's custom pantry cabinets and organizers, including:
Adjustable shelves
Slide-out wine and can racks
Slide-out spice racks
Scoop front drawers
Basket liners
Garage
Our pantry organizers are built to last. Our designs can work around existing pantry cabinets or create an entirely new plan for your space. Never worry about your pantry because each installation comes with a lifetime warranty to protect all wood components against wear. If any piece breaks during normal use, simply contact your Arizona Garage & Closet Design team so we can help. Choose from a wide variety of colors and finishes to personalize the space and truly make it your own.
Clear, Clean and Edit
Once you have the right organizational components, you can get to filling that pantry and whipping up some delicious dishes for your guests to make memories that last a lifetime! First, we recommend clearing everything out of the pantry. Then you can quickly clean jars, baskets, cans and other organizational components so they are free from debris when you place them back in storage. As you take everything out, be sure to check the expiration dates and throw away what is past the use-by date.
Once your pantry cabinets are cleared out, the next part of the process is to edit what you have left. Editing creates more space for the items you want and need while allowing you to let go of what isn't serving your current lifestyle. Take a moment to place your items into categories. The groupings will allow you to easily identify duplicates. The holidays are a great time to donate extra or unwanted shelf stable food items to your local food bank.
Baking holiday treats with the kids or creating holiday feasts will be a cinch with your neatly organized custom pantry from Arizona Garage & Closet Design.  Contact us today for a free design estimate!