Reach-In Closets
Small Space, Big Possibilities
Don't underestimate your reach-in closet. Design experts estimate that the average closet wastes over 50% of its usable space due to poor design. That's a lot of homeless clothing! Let the professionals at Arizona Garage and Closet Design customize your reach-in closet to find extra space you never knew existed.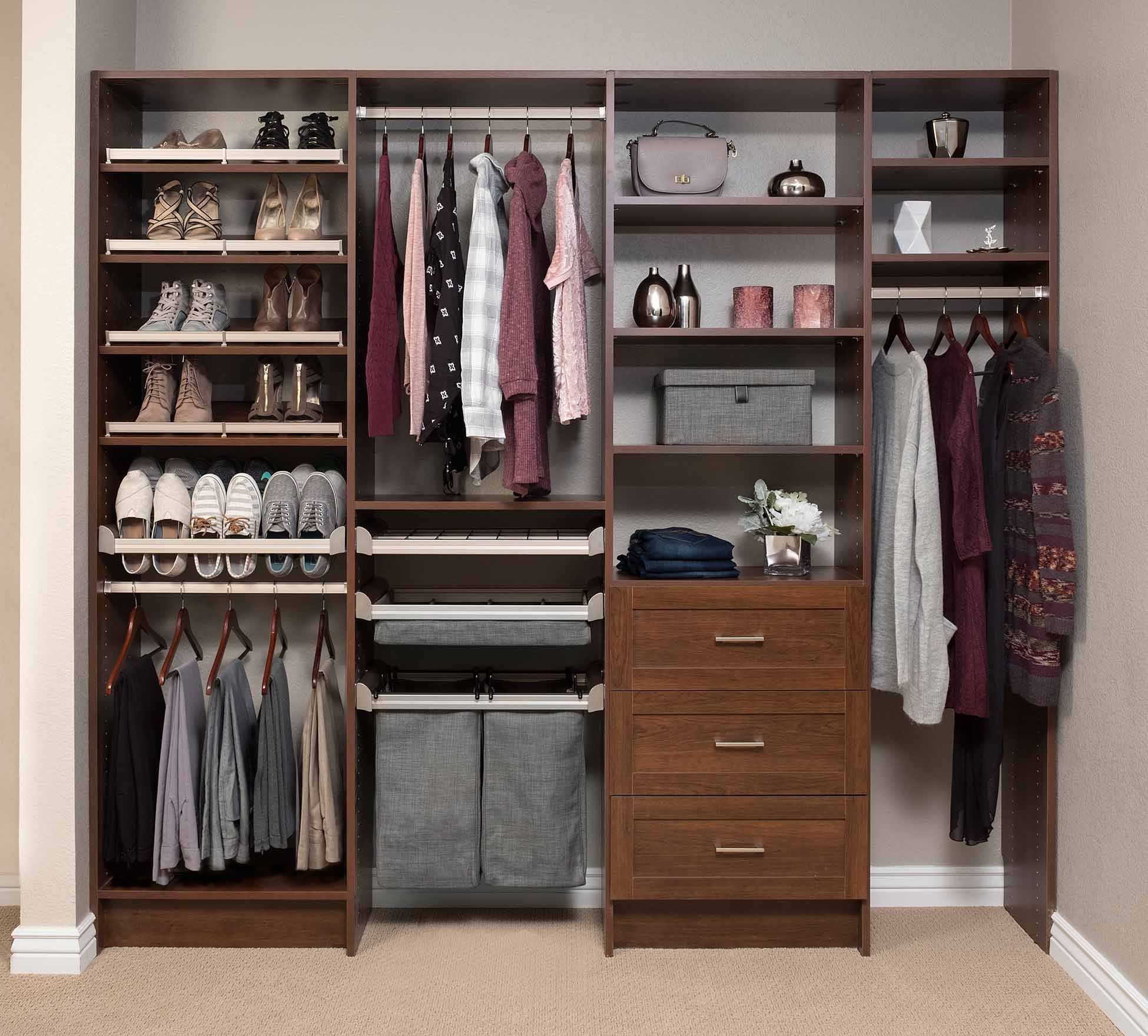 Explore the possibilities of your reach-in closet
Arizona Garage and Closet Design provides a variety of closet organizational accessories for homeowners in the Phoenix and Scottsdale areas. Have you considered a double hang closet? How about slide-out belt, tie and scarf racks? We even install hidden, pull-out hampers so that dirty laundry stays out of sight. If you're ready to explore the possibilities of your reach-in closet, then schedule a free, in-home consultation today.
Getting the Most From a Small Closet
Closets come in all shapes and sizes: from walk-in closets that could encompass an entire bedroom to small reach-in closet organizers. Regardless of the size of your storage area, it is imperative that your closet design uses all of the available space efficiently to maximize what you can store in your Phoenix or Scottsdale home.
The most common closet type is the standard reach-in.  However, reach-in closets can create a storage dilemma for many homeowners. Many homeowners feel that their reach-in closets simply do not have enough space to accommodate their entire wardrobe. Arizona Garage & Closet Design provides custom closet design solutions to solve this problem exactly.
Our high-quality custom closet organizers are ideal for Phoenix homeowners that need more storage space than their seemingly tiny reach-in closets will allow. Arizona Garage & Closet Design's experienced team of closet organizers utilizes a variety of design techniques and premium accessories to help you use every inch of your space. View our photo gallery below or visit our Scottsdale showroom to get more ideas for your custom reach-in closets.
Arizona Garage & Closet Design knows that it can be a challenge to keep small spaces neat and tidy. Contact us for a complimentary in-home closet design estimate to discuss the many options we have for custom reach-in closet organizers in Phoenix, Scottsdale and the surrounding areas.
High-Quality Custom Closets
The cabinets are well built and worth the money. We enjoyed Tucker and Aaron, they answered many questions. My wife especially appreciated the fact they wiped down the cabinets inside and out so she didn't have to. A complete package from Matt in Sales to Installation. Thank you.
W. Lost – Queen Creek, AZ