Phoenix & Scottsdale Powder-Coated Garage Cabinets
Our Most Durable Garage Cabinets Yet
Your garage isn't just a place to park the car. It's a place to fix and showcase your toys, as well as a functional space to store seasonal gear. It's a place for muddy shoes, greasy tools, and revving the engine. Your garage is the meeting point between outdoors and indoors, so you need attractive, yet durable garage organizers to make the space function efficiently.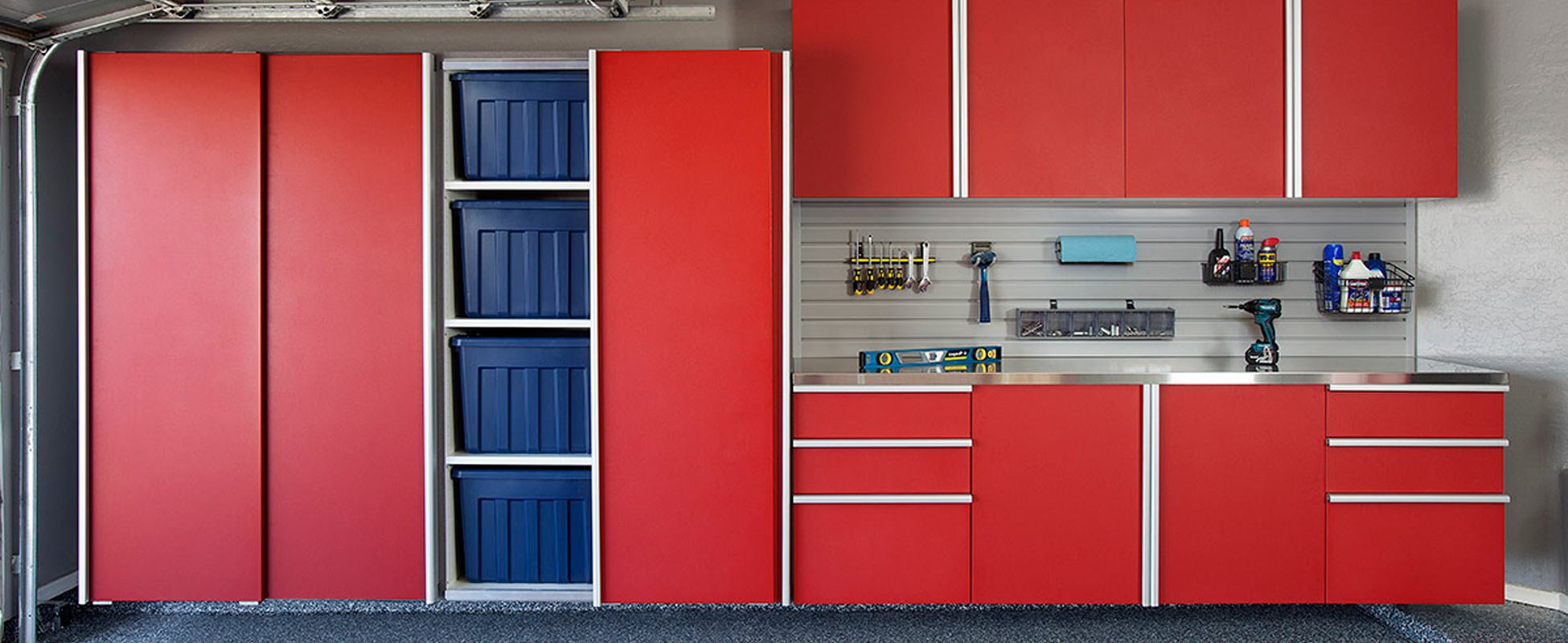 Sleek, Contemporary & Long-Lasting
Phoenix and Scottsdale residents choose our signature powder-coated garage cabinets because they can handle even the harshest climates. Our cabinets are completely encapsulated, meaning, they are moisture, stain and chip resistant and more durable than liquid paint or melamine alternatives. Cleaning is easy; simply wipe down with a damp cloth or all-purpose cleaner to remove dust or dirt. This finish gives your garage a sleek, contemporary look that is as functional as it is pleasing to the eye. Available in Red and Granite, this state-of-the-art powder-coated cabinet finish is the most durable and environment resistant cabinet available in the market today.
Better Than the Competition
Your home's most durable space deserves the industry's most durable paint finish. Our innovative powder-coated garage organizers far exceed competitors' products:
Double capacity: Our extra deep cabinets are capable of holding large storage bins, even if they are placed front to back.
Durable finish: Our powder-coated cabinets withstand moisture, stains, chips, and even the extreme heat of Arizona summers, so they stay beautiful year-round. You won't find this kind of strength with traditional painted cabinets!
Customizable: Choose between red and granite finishes to customize your look. We have nearly 200 different cabinet options, so you can achieve a unique look that's all your own.
As if you didn't have enough reasons to try our most trusted product, every garage cabinet from Arizona Garage Design comes with a lifetime warranty. And did we mention that they look amazing?   So, what are you waiting for? Get your free in-home estimate today and upgrade your garage's organizational units.
Tucker and Aaron were excellent! So pleasant to deal with. Great job! Obviously they take pride in their work. Matt did a great job designing the cabinets as well.
A. Sabean – Scottsdale, AZ