Traditional Garage Cabinets
Streamline your Phoenix-area garage with quality custom garage cabinets and storage systems.
Envision your garage: can you park your car in the garage without fear that holiday décor will come tumbling out of a flimsy cabinet? Or perhaps your garage is so jam-packed with tools and sports gear that you haven't been able to enjoy the space for years. Now, envision a garage that is organized, tidy and not to mention, impressive. Arizona Garage & Closet Design can solve your garage storage problems with our custom garage cabinets and garage organizations systems. All the kids' sports equipment is stored and protected for next season. Gardening tools have their own space on the workbench. Even bulky boxes are stored safely and out of sight. When it comes to keeping your garage organized and operational, nobody does it better than Arizona Garage & Closet Design.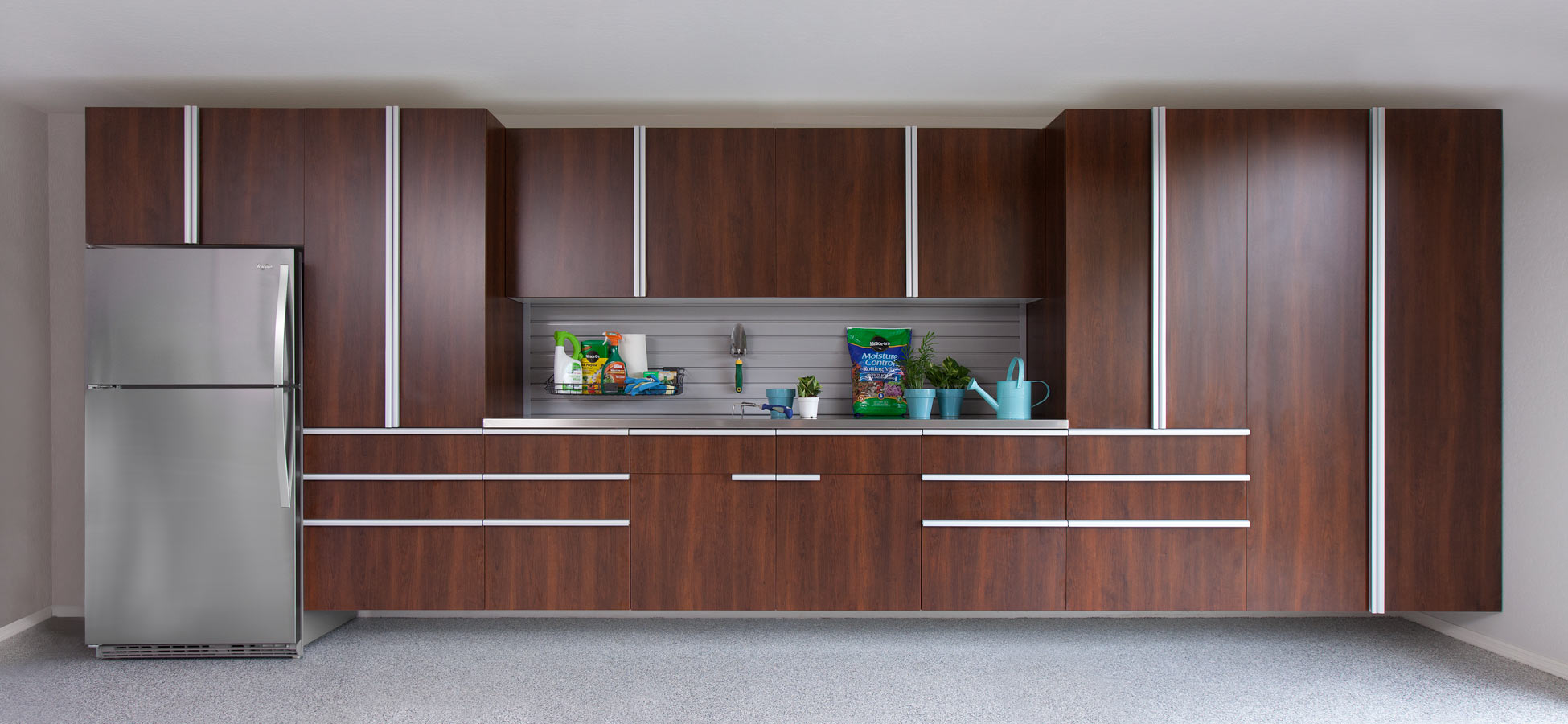 Customize your garage cabinets for a look that is completely unique
Our garage cabinets can be designed to fit your space, your style and your needs. We offer endless ways to customize your garage cabinets, making the days of chaos in the garage a distant memory. One of our expert designers will come to your home for an in-person consultation where they will work closely with you so that your dream garage can come to life!
We've Got Color: Our garage cabinets come in seven colors so you can match your garage cabinets to your personality!  Choose from matte white, solid slate, maple, coco, metallic silver, windswept pewter, or metallic bronze.
Space Control: Our custom garage cabinets feature interior hinges making our cabinets sleeker than others on the market. Take advantage of our innovation for the optimal space control.
Custom Options: Who doesn't love options? We offer a variety of cabinet heights, depths and widths, giving you the option to customize your garage storage system. We even offer extra deep cabinets large enough to fit large storage bins fit front to back on a shelf. Double capacity? We'll take it!
Striking garage cabinets are important, but we care about more than just looks. We want you to feel confident for years to come utilizing your garage storage system. That's why we think about installation differently. Our garage cabinetry is anchored directly to your garage wall about six inches above the ground. Dirty garage floors and heavy monsoon rains are no match for us; our wall-mounted garage cabinets keep your belongings safely secured out of the water's reach to avoid damage. Pests and dirt are also less likely to make their way into wall-mounted garage cabinets.
Quality is always our first priority when it comes to the life of your garage cabinets. Don't believe us? Believe our lifetime warranty: if any wood product fails within normal use, we'll replace it for free – no questions asked.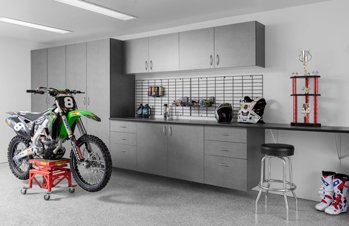 It's time to conquer the chaos and fall in love with your garage again. Request a complimentary in-home garage design estimate today and experience the industry's leading custom garage organization system for yourself.
Tucker and Aaron were excellent! So pleasant to deal with. Great job! Obviously they take pride in their work. Matt did a great job designing the cabinets as well.
A. Sabean – Scottsdale, AZ