Drop Zones And Mudrooms: Contain The Elements
Splish. Splosh. It's a hot Phoenix summer and the kids are in from the pool.
With a mudroom from Arizona Garage and Closet Design, you can make sure the pool stays outside where it belongs.
Our mudrooms and drop zones provide a variety of organization solutions: shoe/boot storage, metal baskets for toys and bags, coat hooks, and more. Plus our high-grade materials and lifetime warranty ensure that your AGCD mudroom won't succumb to scuffs and scratches. The Phoenix lifestyle means fun and relaxation. It also means sweat and dirt. Let's have more of the one and less of the other.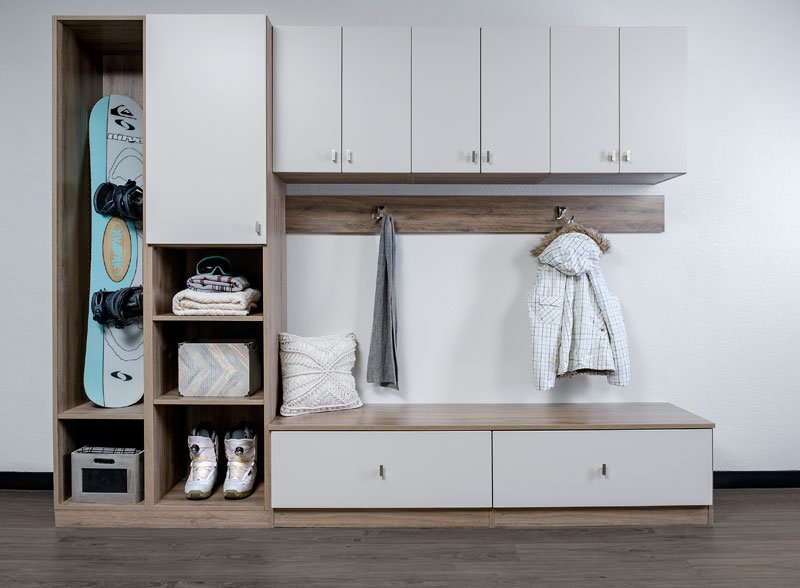 The Importance of the Mudroom
The entry to a home is one of the most heavily trafficked areas in the house, so people understandably want to ensure that their mudrooms are as organized and simple to manage as possible. It's where they take their shoes off, drop their bags and store their gear, so when it comes to mudroom design, the team at Arizona Garage & Closet Design knows how important mudroom organization is for Phoenix homeowners, and we go the extra mile to design a practical and functional, yet aesthetically pleasing space.
Well-organized and easy-to-maintain spaces
Each day when you return home from work, running errands or picking up the kids from their various activities, the first thing you see when you come in from the garage is your mudroom. This is a space meant to serve several very important yet very different functions: cleanliness, storage and organization. For customers in Phoenix, this means that custom cabinets and storage spaces are paramount to keeping your entry space as clean and well organized as humanly possible. Here is what Arizona Garage & Closet Design can offer in the way of mudroom organization for Phoenix customers.
Superior convenience and functionality made especially for your unique living circumstances
Quality materials and custom design with plenty of available accessories to make mudroom organization as easy as possible
Our design team creates well-organized and easy-to-maintain spaces for our Phoenix-area customers. Shoes, coats, outdoor gear, and little essentials, such as keys, hats, briefcases and dog leashes, are easy to store and find quickly when you need them. Arizona Garage & Closet Design can connect customers with a team of designers who can look at any space and see the endless possibilities for it. The result is a storage system using custom cabinets, intelligent space utilization and creative design to create organized mudroom solutions for our Phoenix customers.
If you think your home may benefit from a new layout for your mudroom using custom cabinets and creative design to utilize your space in the best way possible, do what countless customers in Phoenix and Scottsdale have already done and contact us today for a free, in-home design consultation.
Contact Arizona Garage and Closet Design Today
The cabinets are well built and worth the money. We enjoyed Tucker and Aaron, they answered many questions. My wife especially appreciated the fact they wiped down the cabinets inside and out so she didn't have to. A complete package from Matt in Sales to Installation. Thank you.
W. Lost – Queen Creek, AZ