Garage Organization FAQs
Learn more about high-quality garage cabinets and eco-friendly epoxy flooring systems available throughout the Phoenix Valley.
Our home organization consultants take pride in our high-quality garage systems. We offer everything from custom cabinets to epoxy garage flooring, workbench storage, gardening solutions, and storage for athletic equipment. We use only high-quality products that are built to last for years to come. This helps ensure your satisfaction and gives our consultants a reason to be proud of the work that we do. Read more to learn about our products and the installation process: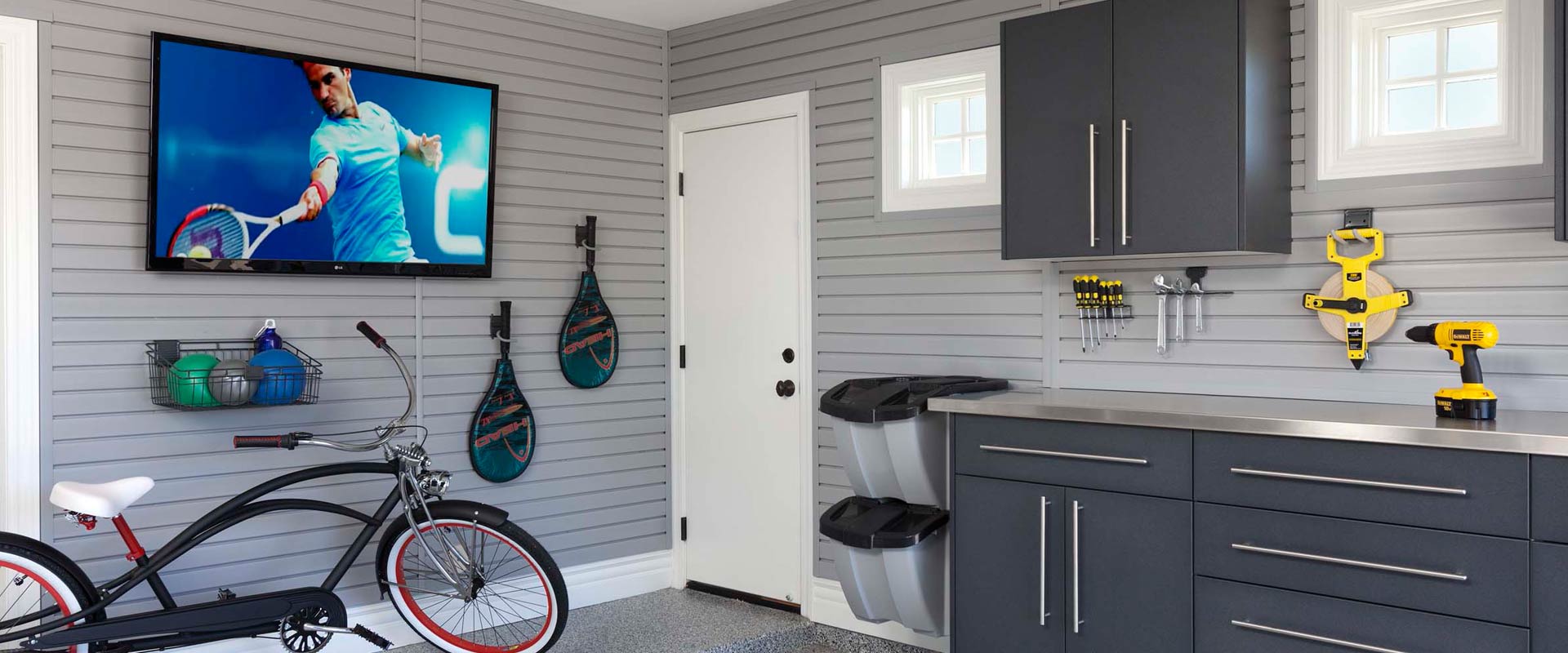 All About Custom Garage Cabinet Organization
How long does it take to install garage cabinets?
Your cabinets are built in our warehouse prior to installation based on the design agreed upon between you and your consultant. We oversee every aspect of production to ensure complete quality control. Our crews deliver the cabinets to your home and install them into your studs. They will then install all doors and shelves. Once everything is in place, we clean your cabinets to complete the installation. While the ordering process itself is dependent on your schedule, a typical installation will be completed within one day. Cabinets are ready to use immediately after they have been installed.
What sizes of garage cabinets do you offer?
Although we do provide standard size cabinets, we also handle custom sizes so that we provide you with a design that is unique to your garage and will best fit your needs and style. Our garage cabinets are naturally extra deep to provide you with additional storage space and can even be ordered with sliding doors or without center dividers to make access easier.
How much do custom garage cabinets cost?
The cost of our custom garage cabinets depends on your preferences and the size of your garage. There are many factors to take into account, including the square footage you would like to have covered in cabinetry, your preferred finish, the size of the cabinets, and whether you would like to have other features installed at the same time, like a workbench table or slat wall. Our expert design consultants are happy to visit your home, share samples, and provide you with a free design estimate to help you make a decision. There is never any obligation to make a purchase.
Do your cabinets come with a warranty?
Yes! All cabinets come with a lifetime warranty on wood components. This means that if your cabinet fails at any time during normal use, we will replace it free of charge. That's customer service you can stand behind.
All About Epoxy Garage Flooring Systems
What are the benefits of epoxy garage flooring?
Floor coatings beautifully protect your garage floors. We use non-hazardous, environmentally friendly products that are stain resistant. Our epoxy garage flooring will not chip, peel or fade in the sun. Coated floors are also slip-resistant and easy to clean with a hose, which keeps your garage clean and safe.
How long does it take to install epoxy garage flooring?
Our crews undertake an extensive process of preparation that includes grinding your floor and filling cracks before applying the epoxy coating. Typically, your epoxy garage flooring is installed over a period of two days. We then allow the floor to cure for 24 hours before allowing foot traffic onto the newly finished surface.
When can I drive on my new epoxy garage flooring?
Brand new epoxy flooring installations cure quickly. They can accommodate foot traffic within 24 hours and vehicle weight after 72 hours.
What is the best time of year to get garage floors finished?
Our products are applied year-round and are not affected by change in temperature or weather. Our crews work rain or shine.
What is the difference between a chip floor and a solid coating?
The chip floor provides added protection and better slip-resistant properties, helps camouflage any imperfections in the garage floor, and hides soil. This makes maintenance and cleaning much simpler!
Can you apply epoxy flooring in other areas of the home?
Yes, our products have been used in basements, utility rooms, laundry rooms, bathrooms, kitchens, and more.
How much does epoxy garage flooring cost?
The price of your epoxy garage flooring is determined by the chip color and flake size you choose, as well as the square footage of the space you would like to have covered. We recommend scheduling a visit with one of our consultants so we can see your space, share samples, and offer you a completely free, no-obligation quote for the work.
Does your epoxy flooring come with a warranty?
Our garage flooring systems are backed by a written five-year warranty against workmanship and material defects. If you are ever dissatisfied with your epoxy flooring, let us know and a member of our team will work with you to reach a solution.
How does the garage design process work?
The garage design process always begins with you. Our designers will visit your home and evaluate your space in as-is condition. There is never any need to clean before our consultants arrive. At that time, we will discuss your needs, the size of your space, and the different options available. Our consultants will typically make recommendations personalized for your style and unique needs. We will create a design just for you, which you may view using our 3D design technology. Once the design is approved, we place the order and schedule a delivery date.