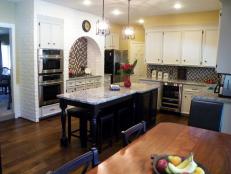 Kitchen organization is important for Arizona homeowners. After all, the kitchen is the heart of the home. It is often one of the first places we go after a long day of work, and is where the kids run for snacks when they get home from school. It is where we keep and prepare the meals that keep us going throughout the day. It is where we form precious memories of baking cookies with children and is the origin of that heavenly aroma during the holidays. For homeowners in Arizona, custom kitchen cabinets are an amazing solution to the controlled chaos that often tears through that part of the house on a daily basis. Here are some ideas to help keep your kitchen neat and organized.
Remarkable Reminders
The kitchen is the default place for shopping lists, to-do lists; any kind of lists that might crop up around the house. Instead of fretting over maintaining or possibly losing a slip of paper, consider adding a whiteboard to your kitchen. If you're feeling particularly artsy, paint your pantry door with chalkboard paint, making the door itself the perfect surface to write those little reminders to help you stay on top of things.
Hanging Handles
Pots are notorious for being large, cumbersome and difficult to store efficiently. Instead of trying to find storage space for all of those large pots and pans, Arizona residents should consider custom kitchen cabinets that allow you to hang the pots from hooks, making it easy to store and grab them as needed.
Loving Labels
It can be extremely frustrating to reach into the cupboard looking for something, only to grab a containing and have to examine it to identify what it contains. In order to prevent this frustration, we recommend using clear containers and labeling them with the contents of each. Either do this with blank paper labels or invest in frosted or etched glass containers for a charming style.
Smart Storage
Even if you have a relatively large kitchen, storage space is at a premium. It's important to be smart about what you store where. Installing shelves and custom cabinets can provide a great deal more storage space while saving room on counters and in cupboards. Install slatwall for hanging space and tension rod dividers to separate platters and oven trays in cabinets.
These are just a few examples of how custom kitchen organization can help you keep your Arizona home neat and orderly. Kitchen cabinets designed specifically with your needs in mind can make all the difference in maintaining a clean, organized kitchen and the controlled chaos of a messy pantry. Arizona