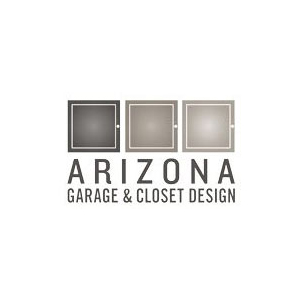 As the summer temperatures finally begin to cool off and we enter Fall, homeowners throughout Arizona look to their garages as more than just a place to park their vehicle. From summertime clothes and sports equipment to gardening tools and pool supplies, garage cabinets fill up quickly – especially in Phoenix when the seasons change. This can lead to what is commonly known as "organized chaos." Fortunately, the experts at Arizona Garage & Closet Design know how to make the most of the space available and can help you create the perfect garage organization system. Here are a few tips to keep your Phoenix garage neat and clean this Fall.
Flooring
While some may think it is frivolous to treat your garage floors, it actually helps to maintain and protect them. After all, if you think about the harsh desert climate of the Arizona desert, epoxy garage flooring is a smart investment for Phoenix homes, especially when monsoon season hits. Not only does proper garage flooring seal and protect your floor, it comes in a wide variety of colors to suit your personal style.
Vertical Space
One of the most overlooked resources in garages is vertical, or overhead, space. Many homeowners can't even park their car in their garage because of all the clutter. By simply utilizing the space available via shelves, garage cabinets and slatwall, you can open up a lot more space than you think. For example, overhead storage racks are a great way to store large, bulky items, keeping them out of the way while still having easy access to them.
Identify Needs
Figure out exactly what you want to do with your garage and plan your organizational design around those needs. If you want a secondary pantry, consider shelves that are within easy reach of the kitchen. If you need a place to keep power tools, garage cabinets are a great solution.
Zones
Creating designated zones in your garage is a great way to stay organized. Ideally, you want the items you access the most often to be the most readily available. Seasonal items, such as holiday decorations, can be stored overhead (making use of that vertical space we mentioned) via bins and racks. Sports equipment, bikes, and gardening supplies can be hooked onto walls for quick and easy access.
Labels
One of the key elements to successful organization is labeling. Whether you have a photographic memory or can barely remember what you had for breakfast this morning, labels will help you find what you need quickly and easily. This does not just apply to boxes, however. Consider labeling shelves and cabinets as well so that everything has a clearly designated place. That way, you'll never have to search for an open spot to store something, since you'll already have a place for it.
From garage cabinets to custom flooring, Phoenix homeowners can count on Arizona Garage & Closet Design for the ultimate garage organization solutions. Contact us today for a free in-home estimate and let's get started on building your perfect garage!