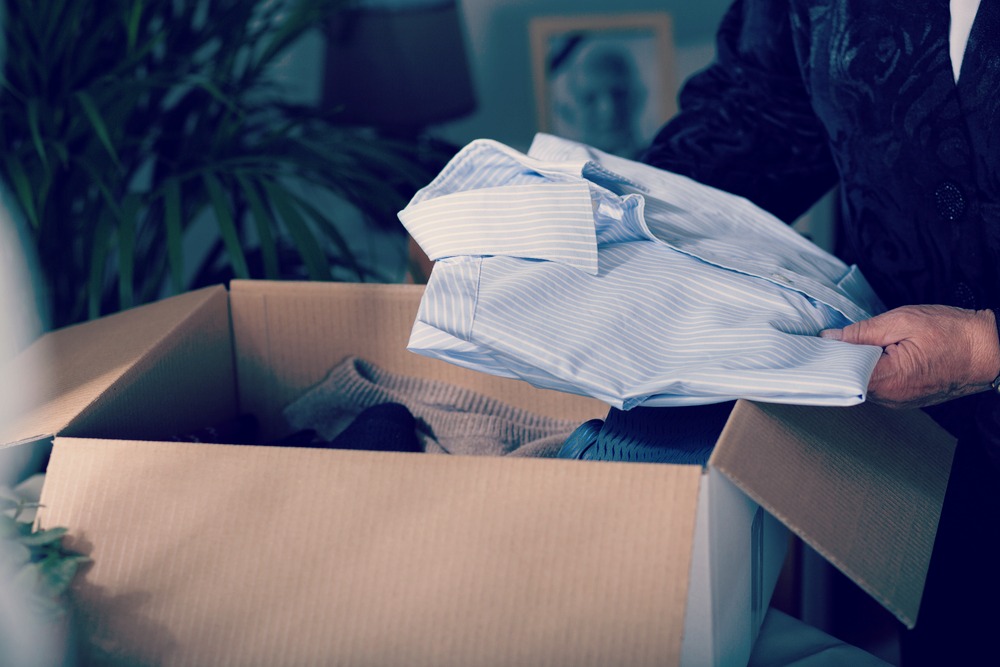 From triple digit summers to freezing temperatures on winter evenings, desert dwellers know all too well the wardrobe changes that have to happen in order to be comfortable. Our designers have seen it all when it comes to seasonal clothing storage. Just a few simple tips could help save your wardrobe for the next season so you can get more wear from your wardrobe.
Donation
The first step in any season is to consider whether items need to be stored at all. Go through your wardrobe and make piles of clothes that no longer fit, are too worn to wear, or items that are simply out of season and are not likely to be worn again. Donate what you can to help lighten the load in your closet. Arizona residents can donate clothes to many different charities, including:
Cleaning
Even if your clothes look clean when you pack them away, residual body oils and stains can set and cure over time. Wash your clothes, remove stains, and dry-clean delicate pieces before putting them away for the season. This will prevent any surprises the next time you pull out your favorite shirt.
Hangers
Remember to avoid wire hangers for long-term storage because they leave dents and dimples in soft fabrics. Thick, plastic hangers are a better choice, but still leave the possibility of misshapen shoulders when you return to your clothes next season. Our designers recommend high quality wooden hangers like the Proman Products Kascade Hangers ($65). For trousers, look for pants hangers similar to these Luxury Wooden Felted Trouser Bar Hangers ($40) that have felted trouser bars so they won't leave imprints in the fabric. Similar hangers can be found to preserve delicate sweater fabrics and suit jackets.
Garment Bags
Garment bags are a great way to protect clothing that needs to be hung for long periods of time, such as suit jackets or gowns. Choose bags made from cotton or simply wrap clothes in old cotton sheets. Cotton protects clothing from dust and allows for proper air circulation. Plastic dry cleaning bags trap moisture and encourage mildew, so we always recommend removing them as soon as your clothes come home.
Boxes
One of the safest ways to store your clothes long term is in secure plastic storage containers with tight-fitting lids. These are easy to label with a label maker or permanent marker, so you know exactly what is in each box. Our designer recommend avoiding cardboard because it is highly acidic and contains glue that attracts pests. These stackable Clear Weathertight Totes ($10) are a great choice for seasonal clothes storage.
Pest Prevention
Mothballs have chemical fumes that kill larvae. Use only in sealed containers – never place directly on clothing. Mothballs are effective at pest prevention, but are toxic if consumed. Households with children or pets should consider safer methods of pest prevention like cedar blocks, which smell amazing.
Storage Space
Your storage space should be clean, cool, dark and dry. Minimize sunlight exposure to prevent fading. Exposure to hot temperatures can damage clothing, so avoid storage closets next to heating units or appliances like the washer or dryer. It's tempting to store seasonal clothes in the garage, but our designers advise against placing clothes anywhere capable of experiencing extreme temperature changes. Similarly, storage units should be temperature controlled for maximum protection.
Imagine opening your closet to a clean, ready-to-wear wardrobe next season. That could be your reality every year with proper garment storage and care during the off season. Arizona Garage & Closet Design has years of experience caring for our customers' wardrobes with professional advice and custom closets that make it easy to prepare for the weather in Phoenix each season. Claim your free in-home evaluation today to learn more.