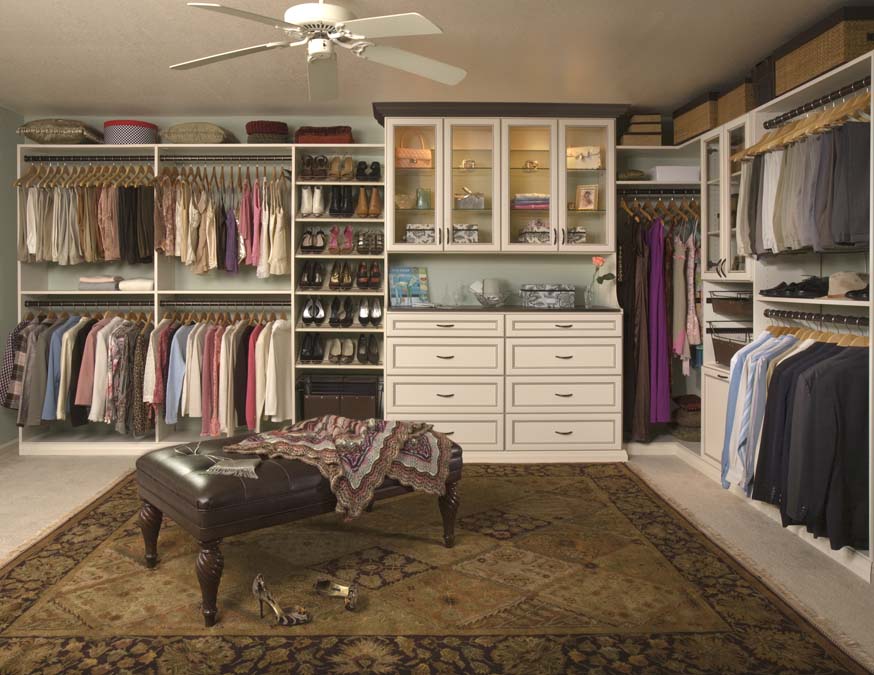 One of the biggest benefits of working with a custom closet company for your remodel is that you will not only get a custom organization system specially designed to meet your storage needs, but one made to fit your décor as well. From the initial consultation to the final installation, custom closet designers work with you to create a functional, yet beautiful organization system that will last a lifetime. Arizona Garage & Closet Design makes the closet remodeling process easy with our unique approach to designing and installing a custom closet system in your home.
Step 1: The Consultation
All of our home organization projects start with a free, no obligation design consultation. One of our designers will visit your home to discuss your storage needs and preferences while at the same time evaluating your available space. During this stage of the design process, we will ask many questions to better gauge your needs, including:
How much hanging space is needed for shorter items, such as shirts and blouses?
How much space is needed to hang longer items like dresses?
Do you hang your pants from the cuff, or fold them over a hanger?
How many pairs of shoes do you own?
How much shelf space is needed to store folded clothes?
We also look at existing furniture and décor in the room to get an idea of the types of materials that would complement the space. Our closet cabinets come in six different styles and eleven different colors to complement the colors of existing décor, though gray or white organizational systems are always popular choices. Finally, we take all of the measurements required to plan the layout of the storage system.
Step 2: The Design
Once we have an idea of your particular needs, we create a computer-rendered 3D design of your closet, so you can see what your finished system would look like after installation. We work with you to change the layout as needed until your dream design is complete. At this time, you will be able to make all of your finish and accessory choices before receiving an estimate for the project. We can work with you to adjust the design to meet any budget restrictions you may have.
Step 3: The Production
After we finalize your design, we begin working on the physical construction of your custom storage system. This process can take two to three weeks as we craft a high-quality product specifically designed for your home. Our cabinets have a ¾-inch thermofused melamine finish that resists scratches and stands up to heat, moisture, stains, and dirt more effectively than other products, while all of our cabinet doors come standard with soft-close hinges. Every custom organization system is subject to the strictest quality control standards, and we provide a Lifetime Warranty on all cabinetry. In addition, if a wood product ever fails due to normal use, we will replace it free of charge.
During this time, you should make the renovations you desire for the space. For example, if you were planning on replacing the floor or painting the walls, these jobs are best completed prior to the installation of your new organization system.
Step 4: The Installation
Prior to the day of installation, completely empty the closet so our installers can begin working as soon as they arrive. After we finish remodeling the closet, we will clean our work area and leave you with a completely transformed space. Move your belongings back into your closet and enjoy having an organized space specially developed for your home. You can stay organized all year long with these tips.
Our Phoenix closet system designers understand the ins and outs of storage and space optimization. We will guide you through our personalized design process to custom build a unique solution that's perfect for your needs.
Get a free consultation today and see how a remodeled closet can transform your home.
{{cta('095b226f-9949-4a73-ac29-08abf084c3e7')}}