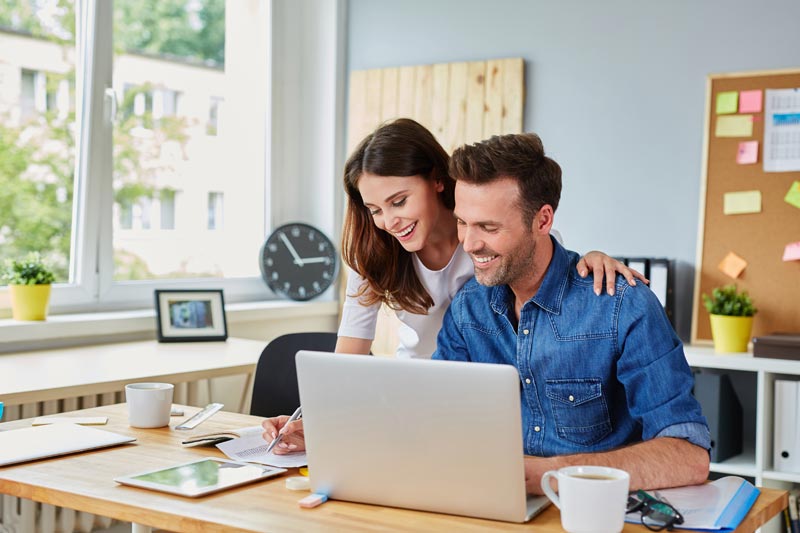 When you and your spouse both work from home, it can be difficult to find a space in the house that can accommodate both of your schedules and needs. Arizona Garage and Closet Design installs home office organization systems that are completely customizable to ensure you can both work in a space you love. From the desk, to accessories, and even cabinets, we can do it all.
It's All About Compromise
At the end of the work day, it's not going to matter to either of you how beautifully decorated the office is, or which wall paint you used if you're not comfortable in the room. Before installation is underway, talk openly about what you are looking for in a work space. Maybe both of you need large desks to fit dual monitors or need storage space for your creative projects. Deciding what goes where is the first step in creating a functional office that will keep both of you motivated throughout the day.
Desk Essentials
The main problem with store-bought desks is that they aren't customizable. What you see is what you get. If the design is not optimal, you'll be stuck trying to make an awkward desk work for years. For those who are going for a streamlined design, it's difficult to find desks that suit the needs of two people while still adhering to your interior design plan. Our team installs work surfaces to suit your needs and specifications exactly. You will each get workspaces suited to your needs without the need to give up critical components in the name of compromise.
Small Spaces Made Functional
With two work stations in a room, your once large space can start to feel small. Control this with office organization accessories that are designed to create more storage and manage clutter at the source. Consider combining the following accessories to create a tidy office:
Adjustable shelves
Pull-out keyboard trays
File drawers
Credenzas
Cord management
Cabinetry
Our home office cabinets provide Scottsdale professionals with overhead and in-desk storage that conceals files, extra devices and supplies with ease. Our cabinets are designed to match your office's existing style and offer a unique element to your space. We customize your cabinet options to fit your room so you don't have to sacrifice more space than actually needed.
Define Work and Home Life Balance
Finally, take time to talk with your partner about boundaries. It is healthy to separate your work and home lives in order to help both of you stay focused. This also encourages each of you to take necessary breaks at the end of the day to spend time with your family. Eliminate distractions by focusing on the task at hand while in the office, and don't let it leave that room. Doing so helps you create balance.
A shared home office requires a lot of planning to ensure both people are satisfied with their work space. Don't try to do it alone. Trust our professional team to develop a design that works for both of you and motivates you to do your best work. Contact us today to request your free in-home consultation.