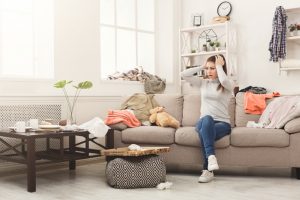 It's easy to accumulate clutter. If only it were just as easy to clear it away! With a little help from the organization experts at Arizona Garage and Closet Design, you can solve some of the most frustrating clutter issues in your home. Keep reading to see our organization solutions for your Phoenix home.
Issue: Forgotten belongings go unused.
Solution: Keep items that provide sentimental and real value.
Through the years, different items make their way into your home and never seem to leave or find a permanent place. These items should be the first to go when trying to clear your home of clutter. Start with full bookshelves, kitchen counters and side tables. Items like small trinkets, used books and opened mail should all be evaluated and dealt with accordingly. If the item doesn't provide sentimental value or real value, such as a coffee maker on your kitchen counter, then it's time to part ways. If it is still in working condition, consider donating the item or giving it to a friend that can find value in it.
Issue: Trying to make existing storage areas work for you.
Solution: Opt for custom-built organization systems to keep items neat.
Unless you live in a new build, your home's storage areas were probably not built with your family in mind. Instead of trying to force these awkward areas to hold your belongings, install a system that was actually built for your needs. Whether your storage needs lie in the pantry, the laundry room, or even the hall closet, we can install functional storage solutions. We personalize each installation to meet your exact needs, so everything has a place.
Issue: Closest is bursting at the seams.
Solution: Wardrobe organization using closet accessories.
When closet systems start to fail, it's typically due to an overflowing wardrobe. To fix this, start by getting rid of the pieces you don't – and won't – wear anymore. Next, call the team at Arizona Garage and Closet Design to create a closet system that will actually help you stay organized. Using high-quality accessories, we can help transform your reach-in or walk-in closet. One of the main areas of frustration lies in a lack of laundry solutions. We install pull-out laundry baskets into your closet so you can discreetly hideaway dirty clothes and keep them off the floor. Our closet experts also install the following custom closet accessories at your Phoenix home for optimal organization:
Double hanging rods
Pull-out metal baskets
Slide-out belt and tie racks
Jewelry trays
Shoe storage
Start living your best, most organized life with help from our professional team. Whether you choose custom-built cabinetry or closet accessories, your home will be clutter-free in no time. To get started on your home organization project, get in touch with us. Contact us today for a free consultation.