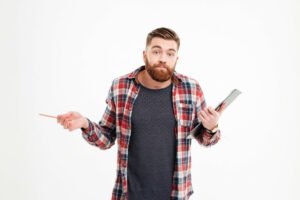 When it comes to your garage, it's always better to be organized with garage storage cabinets than just having your belongings sit around. Unfortunately, this seems to be the organized mess that most people live in instead of the other way around. In fact, a recent Closet Clutter-Organization Survey from ClosetMaid found over half of the 2,000 Americans surveyed admitted they had a clutter issue.
You can help with this by avoiding cheap garage cabinets and instead, seek out custom garage storage cabinets that fit your property much better. While it might seem better to recycle things or buy them secondhand, let us please persuade you that this is not a good idea. Cheap garage cabinets have a lot of drawbacks that could end up costing you more in time and stress than you save in your wallet.
Old Kitchen Cabinets
When people renovate their kitchen, they tend to save the old cabinets. It seems like a practical idea, right? Instead of letting them go to waste, many people install them somewhere else that they might be able to be used in a proper workflow. Whether this is a basement workshop or outdoor storage, they seem like a good choice at the time because you've already paid for them and they were functional in your kitchen. Yet, these cabinets are not suitable for your garage at all because they were never meant to be in your garage or outdoor environment. Since most kitchen cabinets are made of wood, they will warp and degrade easily if they're not in a climate-controlled environment (which most garages are not). Over time, what may start off as a good idea might actually become a bit of a mess that you have to clean up.
Low Quality Metal Cabinets
When you're looking for storage cabinets but don't want to shell out the money for custom garage cabinets, sometimes metal cabinets can be appealing. They can also be a good choice, as long as you don't choose lower-quality metals that will warp, rust, or sag over time. You should always choose steel over aluminum if you can find it, and look at customer reviews that gauge how thick and corrosion-proof that the metal is over time. If you can find a metal cabinet system that is made in the USA or Canada, it will also tend to be of a higher fabricated quality than those that are manufactured elsewhere. Steels produced overseas do not have the same standards that ones do in North America, so they may be lacking in many areas.
Plastic Garage Cabinets
We've gotten used to plastic being in our lives seemingly everywhere, but that doesn't mean that it's gotten more durable or eco-friendly. When you have the choice between plastic cabinets and custom garage storage cabinets, we hope you'll choose the latter. Plastic is always of varying qualities, can only hold so much weight, is sensitive to heat, and can chip or crack with the wrong items slammed against it. Much of it is manufactured overseas in varying degrees of quality. It is immune to rust and rot but also has far fewer load capacities than other materials. It will not be possible to store large and heavy items in plastic cabinets, and you will be much better off getting custom garage storage cabinets to hold your precious tools.
Make the Smart Choice
While it seems like low-cost ideas for cabinets and storage are seemingly everywhere, most of them are not to be trusted. From not being able to withstand the temperature fluctuations that a garage is prone to and repurposed materials being of varying strength, these are temporary solutions that will eventually cause you massive headaches and stress. Instead of trying to constantly figure out a way to deal with these problems that will come up, you should consider getting custom garage storage cabinets installed instead. By allowing a contractor from Arizona Garage Design to come to your home and assess your storage needs, you'll be able to get the custom storage solutions that you need and be assured that they will last the test of time. Get organized and improve your garage today, seek out custom garage storage cabinets that meet your needs instead of detracting from them!