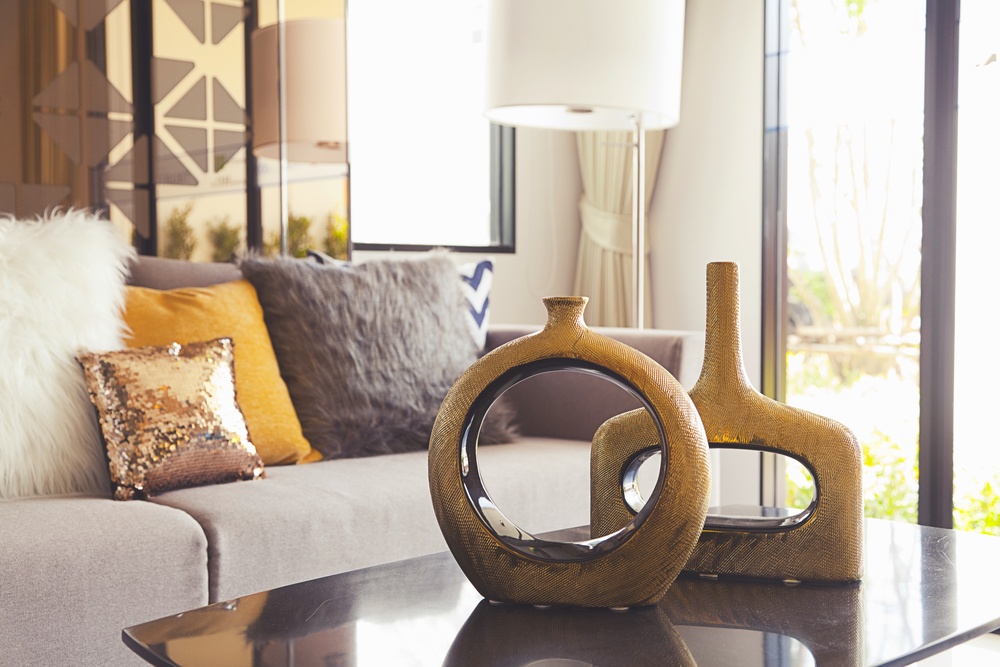 There's something about the New Year that makes people want to start over. We change our clothes, try new things, make resolutions, and do our best to start the New Year off on the right foot. Our designers like to take things a step further and extend this concept of rejuvenation to the home, as well. After all, with all the right tools in place, your home can contribute to a happy, healthy and productive year. Here are our designers' tips for a home you will be proud of in 2017:
Deep Clean
A clean house will allow you to move into the New Year with a fresh perspective. If you've been keeping up with regular weekly cleanings, an annual deep clean won't take very long, but it will definitely make you feel productive and help set the tone for the rest of the year. Go through each room and clean every nook and cranny. Remember to get the baseboards and ceiling fan paddles. This is also a good time to rinse window screens and wash the glass to let the sunshine pour in. You should also take this time to go through your belongings and clear out clutter that accumulated over the last year. Once your house is thoroughly clean, you will want to keep it that way! Follow these tips from My Domaine to create a routine cleaning schedule for your home.
Donate Unwanted Items
Before bringing more in, you must first get rid of what no longer serves you. Go through your cupboards and closets for items that can be donated to a local charity or secondhand shop. Consider some of the following local charities for your donations:
420 W. Watkins Road
Phoenix, AZ 85003
Home pickup available
115 E. Watkins St.
Phoenix, AZ 85004
Additional locations in Peoria, Mesa & Anthem
P.O. Box 50908
Phoenix, AZ 85076
Home pickup only
Banish the Junk Drawer
You don't have time for unnecessary clutter in your life, so why keep it in your house? Tackle the junk drawer and assign everything to an appropriate spot in another part of the house. If you find something that doesn't really have a place, create one. Custom closet and pantry organizers can be designed to accommodate just about anything.
Bring the Outdoors In
Many people report feeling more grounded when they have plants inside the house, and there are a multitude of plants that are even known to "scrub" the air of impurities like ammonia, formaldehyde and benzene. Choose some greenery to match your space and enjoy the benefits of extra oxygen and cleaner air.
Remodel
Think big. Replace the old carpet, install an elegant mantle, swap out your dated lighting, and bring the house up to speed with the latest and greatest in home design. According to HGTV, remodels in the bathroom, backyard or kitchen often result in a 100 percent (or more) return on investment. Whatever your design dreams, now is the time to call up a contractor and put your long-awaited plans into action.
Mixed Materials
Anthropologie designer Christina Frederick predicts velvet, marble and mixed materials will be popular this season – and will remain so throughout the year. Style clean lines with lush fabrics and throw in some shine with a gold chandelier or mirror frame on the wall. Add a patterned arm chair and your home will be ready to greet the New Year in style!
Exposed Elements
Now is the time to uncover the natural elements that make your home beautiful, or add some if they aren't there already. Interior designers rave about exposed brick, natural hardwood floors and visible ceiling beams. This is a great way to get back to basics while showcasing the architecture of your home. Consider lighter shades of wood or whitewashed brick for a softer, more rustic look.
Live Luxuriously
Add a touch of class to each room you design. This could include something small that makes a big impact, like a chandelier or crown and base molding throughout the house. Our designers love to add glass panels to cabinet doors, and we can even help recommend unique lighting solutions to highlight your beautiful installations.
Store More
Even though your design is rich in style, you can still maximize your space with fold-out, tilt-out, and slide-out accessories. These items can be artfully hidden with custom closet or pantry organizer systems. Most Scottsdale and Phoenix homes lack basement space, so it is important to use every square inch available.
Make it Livable
A lot of people forget that homes are built to be used and lived in; they aren't museums. Decide which rooms are currently working for you and which aren't. A dedicated home design professional from Arizona Garage & Closet Design can help you make "dead space" livable again, so you get the most enjoyment out of your home.
These tips can help bring out the best in your home no matter your personal style. Choose a few items to tackle right now or get the whole list done immediately for a dramatic change you will love. Ready to get started? Request an estimate to speak with a home organization expert today.