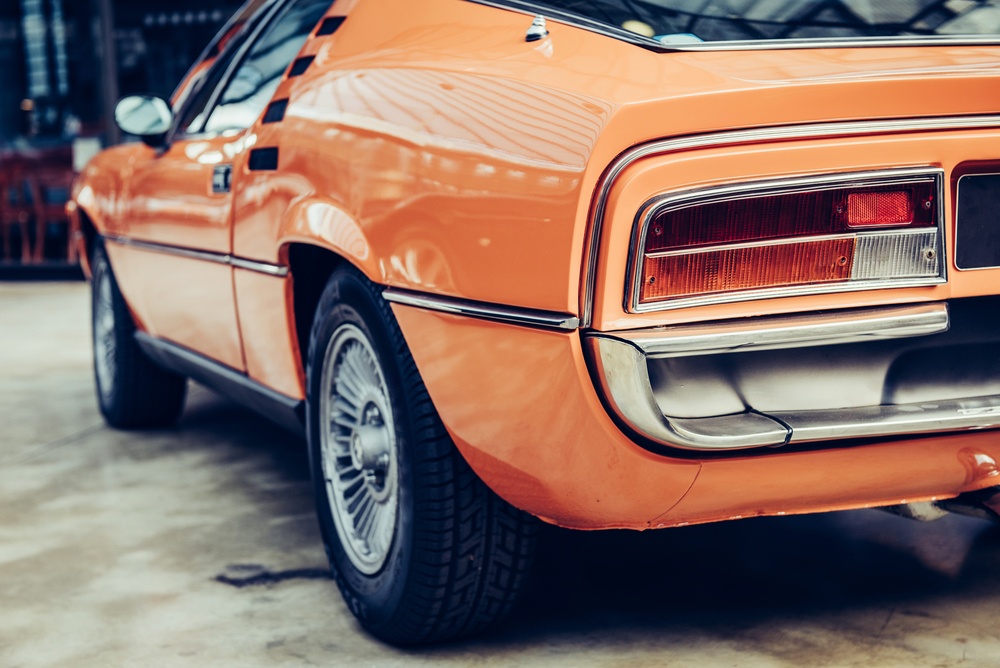 For some homeowners, the garage is nothing more than a place to store all of the things that don't belong indoors, like bicycles or athletic gear. But for classic car collectors, the garage is the most important space in the home. Anyone who has seen the way Arizona's scorching sun destroys automotive paint and interiors can attest to the fact that garages rule, especially for storing classic cars that tend to have antique parts, expensive renovations and delicate chassis made of fiberglass.
Not only is having a garage good news for your car, but it can also be fun for you, too. Many classic car owners take it one step further and customize their garages to fit their personality and style, or to better accent their auto collection. Follow these tips to get the most from your garage storage and keep your ride in mint condition for many years to come.
Tip: Weatherproof the garage
Think of your classic car like a human body – it performs best when the temperature is just right. If you live in the Phoenix area, you no doubt already know how extreme summer temperatures impact your vehicle's performance. Frigid temperatures take their toll on vehicles as well. That is why it is so important to invest in proper insulation for the garage. Basic fiberglass batt insulation works well to keep out the weather, as long as it is fitted properly (learn more). You can also add weather-stripping around the edges of the garage door to keep rain and dust from seeping in. A climate controlled garage may be worth the investment if you do not plan on using your vehicle for long periods of time (e.g., storing it for the winter).
Tip: Invest in garage storage
Hanging your tools, rakes, brooms, and other useful items on slatwall or grid wall can de-clutter your garage and make it easier to find the right equipment to work on your vehicle. Garage cabinets with sliding doors also allow you to store possessions out of sight, protecting your car from dings or dents caused by falling items and allowing you to access the cabinet's contents easily, even while the car is parked in the garage. The more neat and organized your garage looks, the better your classic car will look inside it.
Tip: Install lighting
Lighting is more than just an aesthetic feature. Adequate lighting reduces the risk of errant dents and scratches, and allows you to clearly see what you are doing while working under the hood. Ceiling-mounted or hanging lights with energy-efficient light bulbs are usually the best options for garage lighting.
Tip: Optimize your workspace
If you're like most classic car collectors, chances are you love spending time working on your cars. Don't skimp on your workbench. This is one piece of décor in which it always pays to invest. A quality workbench can last a lifetime, and if you choose a color to match your garage design, you have the added bonus of a stylish backdrop for taking photos of your collection.
Tip: Store a quality inventory of special car products
The engine is essentially the heart of your vehicle and it is vital to keep it maintained, especially on older vehicles that may be more fragile or susceptible to corrosion. Modern oils commonly used on newer cars should not be used on vintage vehicles. Older cars are typically made with cast iron, which is susceptible to damage from modern oils. Specialized oils for vintage cars have zinc that can protect the iron from corrosion. Waterless coolant won't corrode the car's sensitive chassis, and manual transmission lubricant will keep your car's gears operating at their smoothest. If you plan to keep your car stored for a long period of time and want to prevent your engine from damage, you will need to drain it of any liquids, including fuel, coolant and oil. Keep a stock of quality car products in a cool, dark place, such as a garage cabinet, so that you always have what you need close at hand.
Tip: Let your garage décor complement your classic car
Create the perfect scene for taking photos of your vehicle with a stylish garage design. Creative ideas such as hanging up old license plates or just finding that perfect candy red color for your workbench can be great if you really want to get into your hobby.
Whether you love the familiar rumble of the engine or just enjoy the wind in your hair as you cruise down the street, owning a classic car that makes people turn their heads is priceless. But when you get caught up at work or the weather isn't agreeable, your pride and joy sits alone, and that, more than anything, can hurt your vehicle. Your classic car is an investment, and it pays to protect it. No matter if you have one car or five, make sure your garage is worthy of housing and protecting them.
If you are interested in garage design or reconstruction for your Phoenix home, contact Arizona Garage & Closet Design and get a free in-home consultation today! Let us install the perfect garage organization system for your classic car collection.
{{cta('68ac9fba-dfdf-49ec-961a-1a64626a78ec')}}