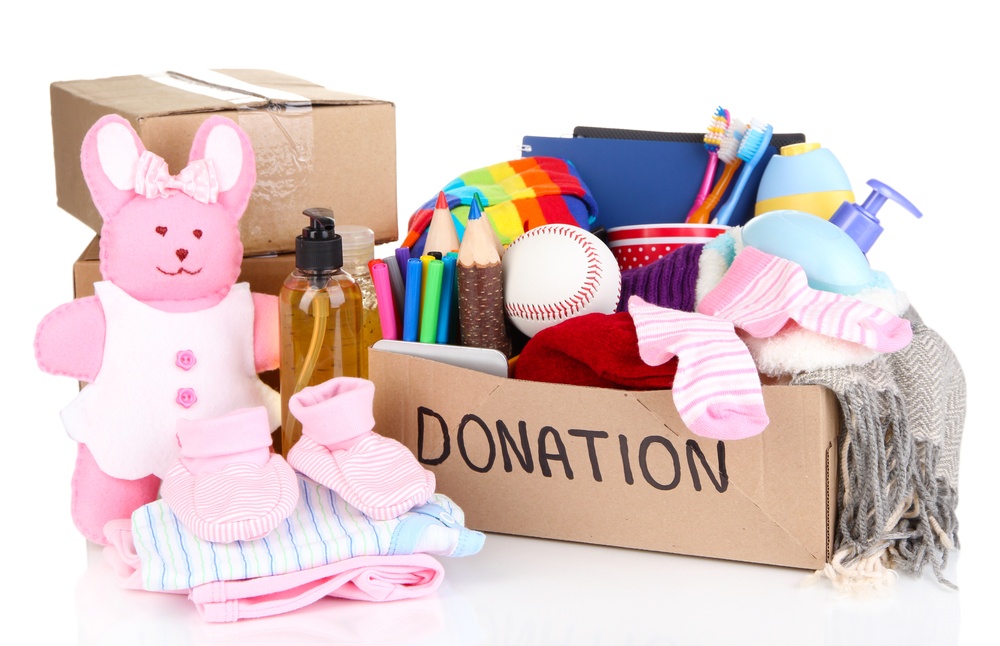 If you're like most homeowners, you've probably come across the problem of having too many items that serve no real purpose in your home. From old sets of athletic pads and outgrown clothing to old musical instruments and spare appliances, you seem to wind up with more clutter than you know what to do with after you sort and organize your home.
Rather than throw these items away or sell them at a garage sale, why not consider donating them to local organizations who can give them a second life? National entities like Goodwill and the Salvation Army can be great places to start, but there are many more organizations that can better use specific items you no longer want to keep. Here are some of Arizona's best charities and organizations to donate your unwanted items.
For gently used books:
The Phoenix Public Library: You can drop boxed or bagged books off at any library location. Donations may be added to your public library's collection or sold by the Friends of the Phoenix Library, an organization that supplements funding for public programs at the local level where tax dollars cannot.
Southwest Human Development: Support early literacy programs for children throughout the southwest by donating gently used children's books.
Better World Books: Donated books are sold online to raise funds for non-profit literacy organizations.
For children's items:
Children's hospitals: Local hospitals, such as the Phoenix Children's Hospital, are always in need of toys, books and games for young patients of all ages. Click here to learn more about the most demanded items for pediatric hospital wings.
Operation Noah: Donate stuffed animals to Operation Noah, a 501(C)(3) non-profit organization that Dennis Fries, a teenager from Chandler, created when he was only thirteen years old undergoing medical testing. All stuffed animal donations go directly to children admitted as inpatients or emergency room visitors to Arizona hospitals.
Domestic violence shelters: Local women's and family shelters are often in need of gently used toys, books, clothes, and games. Find a full list of Arizona shelters in need of donations here.
For furniture:
Bridging AZ: An Arizona organization that partners with social service agencies to provide furniture to families in need, Bridging AZ accepts donations of beds, couches, loveseats, recliners, tables, pots and pans, artwork, and more. You can drop items off at their Mesa warehouse Tuesday through Saturday, or request a pickup for donations of two or more items.
Habitat for Humanity: With charters throughout Arizona, Habitat for Humanity works to provide housing, home repairs and furnishings for families in need. Donate gently used building materials, household items, furniture and fixtures to the Central Phoenix ReStore program by scheduling a pickup here.
Freecycle: The Freecycle network is a grassroots, non-profit movement of people giving away items for free in their communities. Browse your neighborhood's listings to see items that people have requested or post your own items you want to offer.
For fitness equipment:
One World Running: This international program promotes an awareness of health, fitness and nutrition by providing running shoes for those in need throughout the U.S. by hosting 5K walks/runs for charity. You can donate athletic shoes at their Arizona drop-off location in Anthem.
Pearl Izumi Factory Store
4250 W. Anthem Way, Suite 110
Pick Up Please: Donate used sporting goods and fitness equipment to veterans and their families. Simply fill out the donation form, choose a date for your donation pickup, leave your clearly labeled donations outside on the day you choose, and their driver will collect your donation, usually within 24 hours.
Arizona Recreation Center for the Handicapped: Your fitness equipment donation will add to a full range of indoor and outdoor programs for developmentally, physically and emotionally disabled children, teens and adults throughout Arizona.
Additionally, you can contact local Boys and Girls Clubs, YMCAs or community centers in your area to see if they need extra fitness equipment. Organizations such as these may even pick the equipment up from your home, saving you the transport time and trouble.
For clothing:
Arizona Humane Society Thrift Store: Donate clothing, shoes, jewelry and more to any of their three Phoenix locations. To schedule a pickup, please call 602.997.7585 Ext. 2035. 100 percent of the proceeds from the sales of donated items benefit homeless animals of the Arizona Humane Society.
Big Brothers Big Sisters of Central Arizona: By donating, you are joining the mission of positively affecting children in your community. Donate used clothing and household items to raise money for the organization. You can drop off your items to donate at one of their Donation Centers or a local Savers store. To find a location near you, please click here.
Dress for Success Phoenix: Dress for Success helps impoverished women secure employment by providing them with professional apparel and accessories along with career guidance programs. Donate used women's professional attire, shoes and accessories to women in need. Learn more about accepted donations here.
St. Joseph the Worker: This Phoenix organization helps men gain employment through a variety of different programs. One of their ongoing needs is donations of men's professional attire. Donate suits, slacks and shoes to the Career Clothing Closet to make a difference in the lives of job seekers in your area. More information.
Maggie's Place: Donate baby items and children's clothing to a community of homes that provide hospitality for pregnant women that are alone or living on the streets. Your donation helps expectant mothers and their newborn babies get back on their feet, supplying them with basic needs and a supportive community in which they can reach their goals.
For technology:
AZStRUT: Support a Phoenix-based organization that provides quality refurbished computers to schools and non-profits around the state. Companies and the general public can drop-off computers, hard drives, monitors, printers, and other computer equipment at the StRUT collection centers. They accept all computer electronics, including personal electronics such as stereo equipment and DVD/VCR players. Find a list of drop-off locations around the valley here.
HopeLine: Donate used cell phones to domestic violence survivors throughout the United States. After erasing all of the phone's data, removing the SIM or storage cards, and placing the phone, battery and charger in a plastic bag, you can drop your phone off at any Verizon Wireless Store.
When you donate to local or national charity organizations, you not only rid your home of unnecessary items, but you also help others as well. What are your favorite organizations to support in Phoenix? Give us your ideas in the comments.
Arizona Garage & Closet Design provides high-quality custom cabinetry, garage flooring and organization systems for the home. Whether it is a garage, closet, pantry, home office, laundry room or other storage area, our professional design consultants will create a space that fits your unique style and budget. Contact us for an in-home quote today and see how Arizona Garage & Closet Design can help organize your garage and closet space!
{{cta('095b226f-9949-4a73-ac29-08abf084c3e7')}}