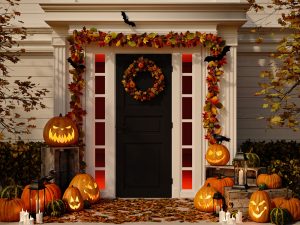 The holiday season is quickly approaching, which means quality family time, delicious meals and adorable home decorations. If you're like most people, you've likely gathered plenty of decorations for the upcoming holidays and odds are you will collect more this year. Decorating your home should be stress-free and fun for you and your family, which is why we recommend custom garage cabinet installations for nearly every Phoenix home. Our storage systems are designed to easily fit all your belongings and promises easy access to whatever you need, whenever you need it.
Halloween is the first transformation our home makes during the holiday season, so it's important that it starts on the right foot for a smooth transition. Follow these tips for getting the most out of this process. Simple storage solutions will make for a stress-free season, just call the organization experts at Arizona Garage and Closet Design.
Spacious Storage Solutions
We understand how vital it is to have a functional storage space in your home, especially in the garage where most homeowners house their belongings. Our garage storage systems are unlike any other on the market. With features like adjustable shelves, fully expandable doors and wall-mounted construction, you will absolutely love these spacious cabinets. Unlike other cabinets, we don't use center support beams that break up the cabinet and make it impossible to store larger items. Our design allows you to store anything on the shelves and makes it easy to get items out when you need to use them. We also wall-mount all your cabinets so nothing touches the floor. This prevents your belongings from coming into contact with running water, dust and other debris.
Steps for Stress-Free Decorating
Don't use prime real estate. When you install garage cabinets at your home, we can work on just about any wall in your space, no matter the size of your garage. Some cabinets are easier to reach than others, while others should be closer to the door leading to the house. We suggest saving these spots for daily essentials that you use frequently. Tuck all your holiday decorations in the cabinets that are least likely to be used to avoid running into or moving them during the off seasons.
Color coordinate your storage bins. One of the best ways to keep track of every holiday's individual decorations is by assigning a color to each box. For instance, put all your fall decorations in orange bins or clearly mark them with orange tape. You could also write on labels with an orange marker to achieve a similar effect. This will help you avoid opening every single box to see what's inside year after year.
Pull every bin at once, put away one-by-one. Take the guessing game out of decorating this year by taking out every single bin out associated with the desired holiday at one time. As you start to unpack these bins, you can fill them back up with your normal home décor to safely store these items while they aren't needed in the house. After you refill a bin, put it away to avoid grabbing that one again.
Take your time to pack it up. When it's finally time to start putting decorations away, it's important to take your time. While cleaning up isn't as fun as putting decorations out, it will save you hours next year when you do it all over again. Make sure you wrap lights up, fold linens neatly and store breakable items securely. This will take the surprise out of what you'll find next year and streamline the process.
Make sure this is the last year your holiday decorations cause any unnecessary stress. We install full-size garage storage cabinets that fully close to protect family heirlooms and help keep traditions alive and well. Contact us today for a free in-home consultation and to learn more about the cabinet options we have available.