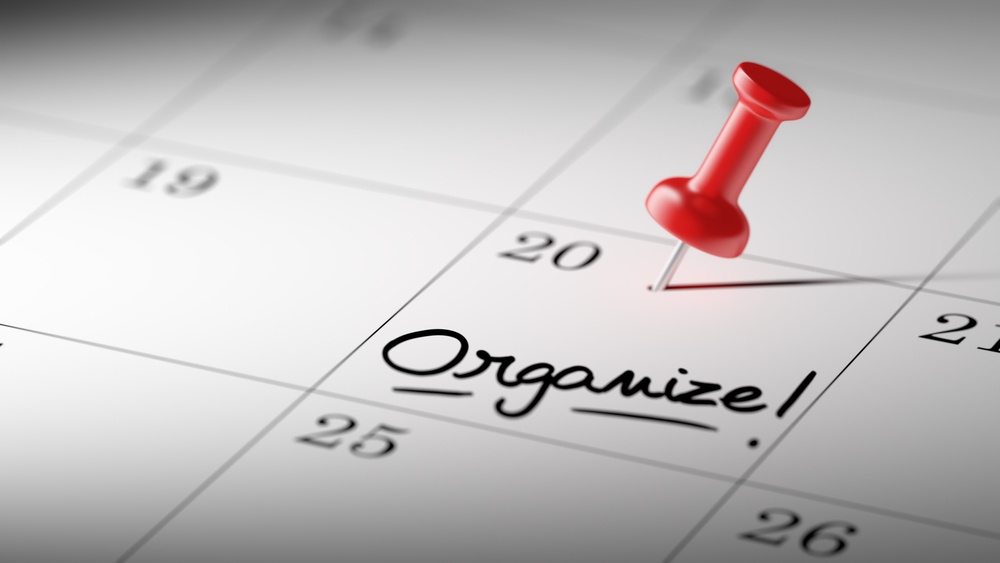 Clutter has a way of creeping into a home. It starts with a pair of shoes left at the door, but never returned to their owner's closet, and it goes from there. Odds and ends get tossed into a drawer, but never sorted. Shelves and counters become catchalls for books, mail and other miscellaneous items that seem to have no home. And closets keep the chaos hidden and out of sight – until you open the door.
If the clutter has taken control of your home, it's time to act! While the task of decluttering the entire home may seem overwhelming, it's actually quite manageable if you break into smaller steps. In fact, you can organize your whole home in a matter of weeks if you take some time every day to focus on one task. Some of the bigger chores might take a few days, but others are pretty easy to do all in one day. However long they take, each task in this checklist will take you one step closer to total home organization. Here are our tips to organizing the whole home one step at a time.
Hallway Organization
Mudroom/Entryway: Put away the shoes, bags, jackets, and other items that have accumulated here. Create a system for the things that belong in this area, such as a mudroom/entry storage system with hooks for keys and bags, cubbies for shoes, and shelves for mail or whatever else you need for the road. A system is only as good as the people that use it, so get everyone into the habit of keeping this space clear of clutter.
Coat Closet: Take everything out and sort it by what belongs in the space and what does not. Donate coats that no longer fit or have been replaced by newer versions. Once the closet is empty, assess the ways you can change the layout to maintain better organization. We recommend using double hanging rods for coats and jackets, with children's outerwear on the lower rod to make it easier for the little ones to reach. Use bins or baskets to store paired gloves and mittens, scarves and other accessories, and hang hooks on the back of the closet door or against an empty wall in the closet to store hats.
Kitchen Organization
Refrigerator and Freezer: Take everything out and sanitize all the surfaces in the fridge and freezer. Place an open container of baking soda in the fridge door to reduce odors. Next, sort through all of the food to get rid of old items or things nobody will ever eat. Don't forget to toss expired condiment bottles and packets. Invest in clear storage containers (like these) to keep like-items organized. From egg trays and fruit canisters to butter containers and wine holders, there is a wide variety of fridge containers that will make your life easier.
Under-Sink Storage: If you're like most homeowners, you probably have an assortment of cleaning supplies under the kitchen sink. Try using a lazy Susan to hold extra dish soap, sponges, dishwasher liquid, and more. Tension rods are perfect for hanging spray bottles of cleaner.
Spice Rack: First, go through all your spices. Like most people, you probably have one or two ingredients you used once in a recipe, but haven't needed again in the last year. Those old spices are just taking up space. Get rid of old or seldom-used spices and free up space for those fresh spices that you use often. As a general rule, whole spices will stay fresh for about 4 years, ground spices for about 2 to 3 years and dried herbs for 1 to 3 years. Here are some tips for maximizing the shelf life of spices: Store spices in a cool, dark cupboard, away from direct heat or sunlight; keep tightly closed when not in use.
Pantry: Audit your pantry inventory to see where you can save space. Remove all food from the shelves, cupboards and drawers. As you clear the space, discard any expired or stale items. Get out of the mindset that you "might need these ingredients for a recipe someday," and only keep the items you use regularly. When you put the food you plan to keep back into the pantry, place everyday supplies within easy reach, while lesser-used items can occupy higher shelves.
Kitchen Drawers and Cabinets: Go through the kitchen and get rid of dishes you no longer need, whether that's because they're chipped and cracked or because you just use newer dishes more often. The same applies for food storage containers that are starting to crack or stain and lids that no longer have a matching container. Containers that don't have matching lids can easily be repurposed as storage caddies for small items in drawers or cabinets. Place infrequently used items in the highest cabinets so that easy-to-reach cabinets can house the dishes and appliances you use daily. And don't forget to clean out the junk drawer!
Laundry Room Organization
Linen Closet: Take stock of the items in your linen closet and get rid of worn towels and sheets, as well as anything you haven't used in a year. If your closet is deep with a lot of shelving, remove the lower shelves to easily hang mops, brooms and vacuums. Line the back of the cabinet with slatwall to hang baskets for cleaning supplies and use higher shelves or narrow cubbies to store linens, towels and other miscellaneous items.
Laundry Area: Create an area specifically dedicated to storing, ironing, sorting and hanging clothes (here's our how-to guide). If you're finding the that the most frequent sources of clutter are coins and receipts that you pull out of pockets while putting clothes in the washer, solve the problem with a small bin or basket you can hang from slatwall or gridwall. Place items from pockets into the bin or basket and then empty it as needed. Alternatively, you can keep a jar on a shelf above the washer and dryer to save the loose change for a rainy day.
Bathrooms
Drawers and Cabinets: Get rid of expired medication (see how to do this safely), trial-size and hotel soaps and shampoos, old lotions and first aid supplies, extra hairdryer attachments you never use, etc. This is also a good time to go through makeup drawers and overnight bags to clear out old makeup and travel toiletries. Use clear bins to sort your extra stock of toiletries and first aid supplies, add a hairdryer rack to the inside of the cabinet door to hold hair tools, put everyday lotions and hair product on a lazy Susan inside the cabinet, and use drawer dividers to separate cosmetics. Consider using a canvas storage bin or nice basket to store extra toilet paper or hand towels.
Shower and Bathtub: Clear out all the empty bottles and store all your bathing essentials in a shower caddy. If your shower caddy is too small to hold everything, install a second tension rod and use hooks to hang everything instead. Tip: paint the rims of metal shower products, like shaving cream, with clear nail polish to prevent rust rings.
Wall Storage: Never underestimate the value of wall storage. Narrow shelves or cabinets installed above the toilet tank are small additions that make a big difference in your bathroom organization.
Bedrooms
Drawers: Refold clothing, sorting the ones you no longer need into a pile to donate. Get rid of clothing with holes and anything that no longer fits. Use drawer dividers to separate clothing types and keep everything looking nice and tidy. Don't forget to replace old drawer sachets to keep the scent fresh. Tip: Instead of sachets, add used dryer sheets or perfume samples from magazines to add a boost of fresh scents to the drawers.
Closet: First, empty the closets and decide what can stay and what has to go. Be critical in your assessment. It's okay to get rid of that sweater that shrunk just a little too much or that pair of pants that doesn't fit as well as it used to. Next, evaluate the space itself. Consider how you can make the most of vertical space to increase the area of the closet and easily improve the overall functionality of the room. Simply installing shelving closer to the ceiling can be a major space-saver, as it keeps seasonal items or garments you do not use often out of the way. We suggest using double closet rods to hang clothing more efficiently. This design concept essentially doubles the closet's storage capacity by allowing two rows of clothing to hang on one wall. Drawers and pullout baskets belong near the floor, while shelves work best at waist-level or above to increase visibility of contents.
Bonus Tip: Take a weekend to organize your garage and start the warmer season off right. Before you start, take the time to read our free garage design guide.
If you need help maximizing the storage space in your home for seasonal or everyday storage, Arizona Garage & Closet Design can help. Visit our showroom or call us at 480-878-7949 today to get a free, no-obligation in-home consultation.
Want more home organization tips? Download our free guide:
{{cta('330c0f2a-1d61-4f43-a6b3-3c59cb0a15c0')}}