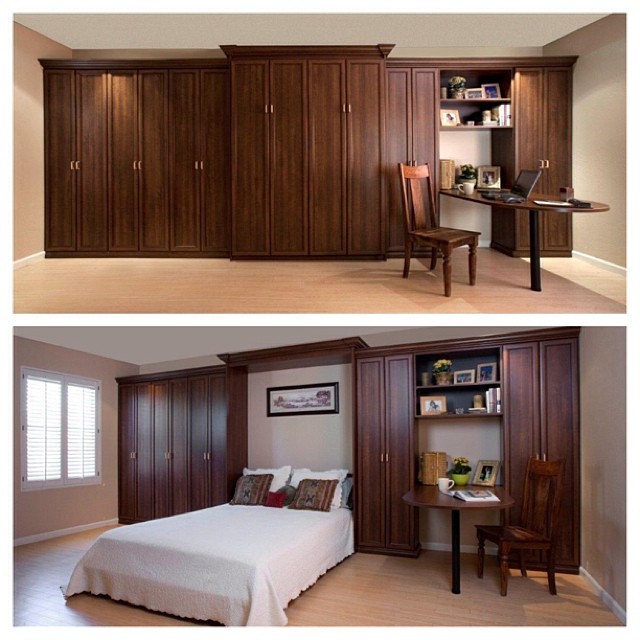 What is your plan for last-minute houseguests? Many people turn to pull-out sofa beds or air beds, but these options vary from "lumpy" to "completely deflated." Daybed owners find themselves limited to narrow twin mattresses that are not nearly spacious enough, and while nearby hotels might offer your guests comfort, they are more expensive and take away from bonding with guests for the short time they are in town. Guest rooms are the best solution for this situation, but many homeowners wish they could use the room for something else for the majority of the year when guests are not present.
Arizona Garage Design's answer to the last-minute houseguest is simple: wall bed installations! Wall beds, otherwise known as Murphy beds, use vertical space to store an entire bed without taking up valuable living space. Our wall beds are built into custom cabinetry to give your visitors extra room to store their personal belongings and luggage. This type of construction provides extra stability and comfort for your guests so they feel taken care of during their visit. Upgrade to include extra shelving or even add lighting to give your guests a more luxurious travel experience.
Unexpected Advantages to Your Wall Bed
Our customers frequently say they use their wall beds much more often than they ever imagined. What started out as a purchase intended to benefit the occasional visiting in-law turned into a space for friends who need a place to sleep after a late night out, sick family members, kids' sleepover parties, and holiday guests. One couple even said they see their grandchildren more often now because their daughter no longer has to worry about driving across town late at night.
Our customers feel more confident about their sleeping arrangements because they know they have a comfortable backup bed to offer instead of sending loved ones away to hotels miles away.
Benefits of Arizona Garage Design Wall Beds
We offer top quality materials for bedding options that last. Our wall beds come attached to fully customizable cabinetry to wow your Phoenix guests. Choose from a variety of designs and finishes, including our thermal foil and premier options.
We are also proud to offer the industry's leading lifetime warranty on all wood products. If any wood product fails during normal use, we will replace it free of charge. Our goal is to make our customers feel confident they have received the best product possible, which is why we stand behind our products 100 percent.
Our team at Arizona Garage Design has the perfect solution to any tricky sleeping situation. Wall beds allow you to maximize space in your home without losing the added benefit of extra sleeping space. With the help of our professionals at Arizona Garage Design, any room can become a guest room! Request an estimate to customize your very own wall bed today.
Want to organize your whole home, starting with the closet? Download our guide:
{{cta('ec4997ed-2410-4ad5-9dbe-fd9d06d350fa')}}