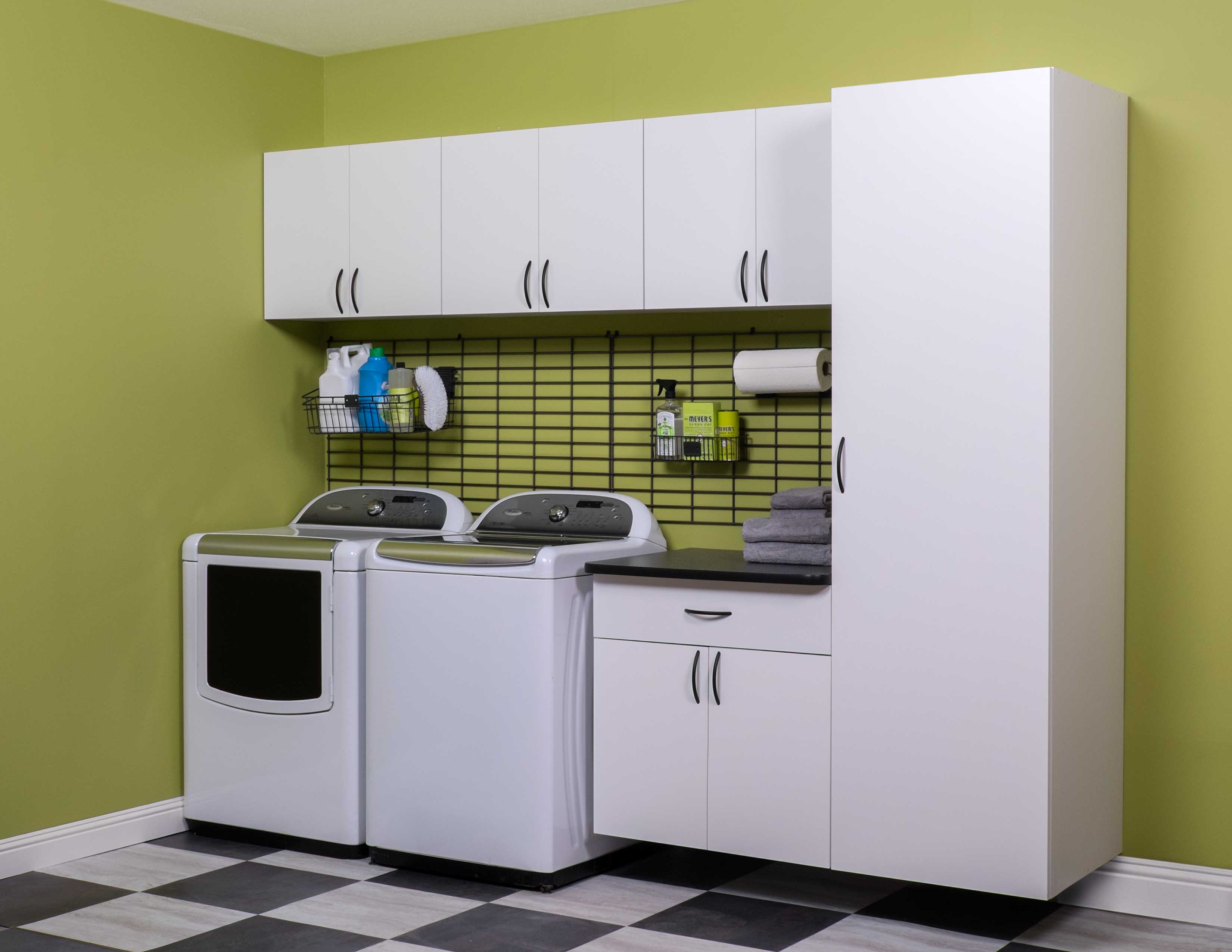 The laundry room may not play a significant role in your interior design considerations, but they are nevertheless one of the most important spaces in the home. According to the 2012 U.S. Census, the average American spends two to three hours each week doing laundry. These hours add up over time. Therefore, it is important to create a functional space that makes doing the laundry a breeze. Follow these tips from the Phoenix home organization experts at Arizona Garage & Closet Design for a functional laundry room that saves time and improves your home.
Create a Space for Storing
Extra tall, deep cabinets without lower shelves are ideal for storing mops, brooms and vacuums. Line the back of the cabinet with slatwall to hang baskets for cleaning supplies and use higher shelves or narrow cubbies to store linens, towels and other miscellaneous items. Keep cleaning chemicals, bleach and laundry detergent capsules in locked cabinets and out of reach of children and pets.
Create a Space for Ironing
A dedicated space for ironing makes it easier to complete this chore as soon as the clothing is finished drying. Store the iron, ironing board and starch together in one easy-to-access space. Hidden ironing boards can be installed inside of cabinets to fold out when they are needed. Simply fold the ironing board back into the storage position when it is not in use.
Create a Space for Sorting
No matter the size of the laundry room, it always seems there is never enough space to sort clothing as it comes out of the wash. Built-in solutions, such as sliding surfaces that tuck away when unneeded, allow you to sort and fold laundry with ease. Traditional laundry baskets take up valuable space and tend to get in the way. Multiple tilt-out hampers can be installed in a closet storage system, allowing you to store and sort dirty laundry as efficiently as possible.
Create a Space for Hanging
Walls can provide plenty of additional storage area in your laundry room. Slatwall and gridwall are infinitely versatile surfaces ideal for holding lightweight shelves, baskets and other items. You can even install hooks for mops or brooms to keep them off of the floor. Hang shelves and racks to reduce clutter and free space for folding.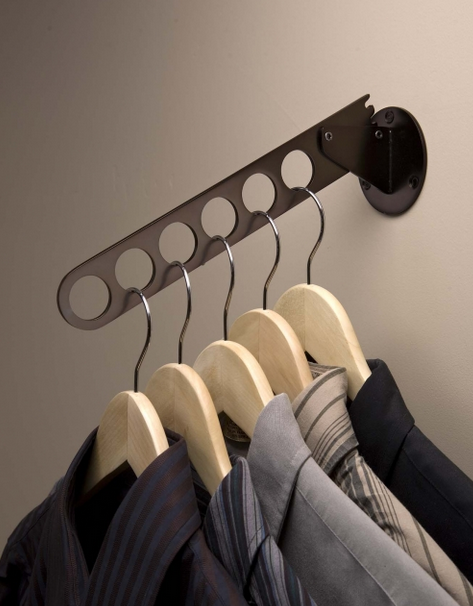 A hanging rod installed above the washer and dryer or in a cabinet can effectively make use of vertical space previously left vacant. Cotton shirts and other articles of clothing that should not be placed in the dryer can be hung from rods to dry while freshly ironed clothes also benefit from easy access to hanging space. Make sure you plan to install your hanging rod six to eight inches from the wall or back of the cabinet to allow room for the hangers to hang perfectly parallel to the ground.
Another alternative is a "laundry valet," which attaches to a wall and can fold up (pictured left).
Laundry rooms are the epicenter for a variety of household chores. It makes sense to make these areas as functional as possible to accommodate their many uses. After all, when you have an organized home, you have an organized life. You can expect the best with a custom laundry room storage system designed by Arizona Garage & Closet Design. Contact us for a free in-home consultation today!
{{cta('de241f07-c37a-42c1-9757-f7c98c53333b')}}