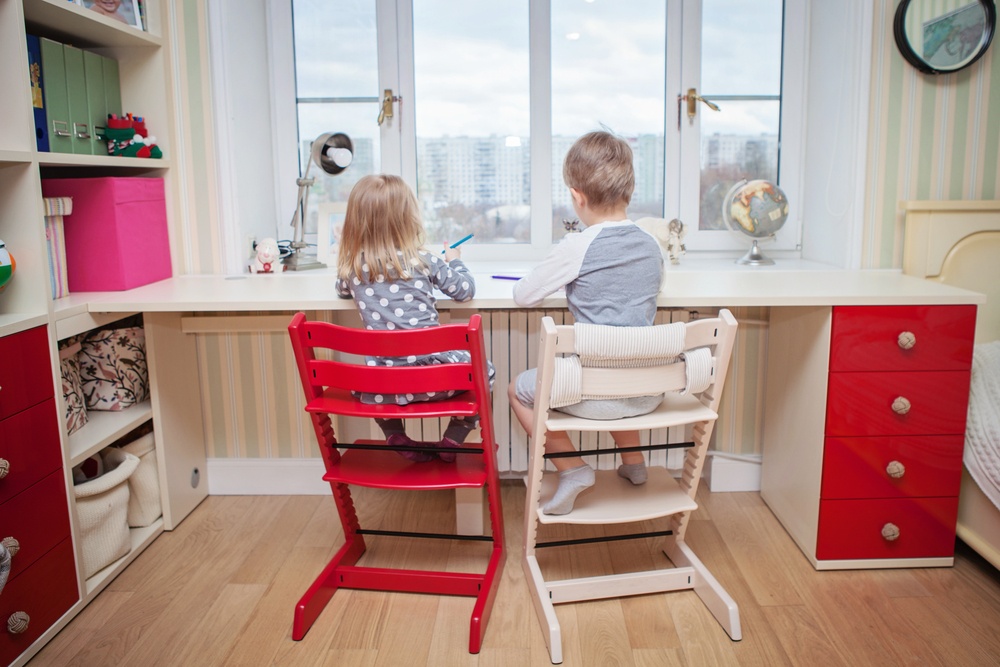 As these lazy summer days come to an end, the start of a new school year is the last thing any child wants to think about. From busy weekdays packed with school and extracurricular activities to even busier weekends filled with outdoor activities, the bustling fall season leaves little room for families to relax. However, with better organization around the home, the fall school year can be a little more manageable, leaving your family with more time to spare. Here are five easy ways to prepare your home for a successful and organized fall season.
1. Organize the Entryway
Clutter is naturally attracted to the entry of your home. If shoes, backpacks and sporting equipment seem to gather near your front door, it is time to take a new approach to organizing this area. Designate a landing zone in the entryway to store shoes, jackets, keys, and other daily items. You can use a mudroom organizer with hooks, cabinets and wire baskets to easily sort each family member's items.
Having a designated place to store everyday essential items will reduce the amount of clutter that accumulates in the entryway, and make it easier for the whole family to leave the house with everything they need each morning.
2. Keep Everyone on Schedule
Between shuttling kids to and from school, and keeping up with homework, extracurricular activities and weekend athletic events, it can be difficult to stay organized when the fall season begins. Keep everyone in the loop with a large calendar or bulletin board posted in a conspicuous location, such as a wall in the entryway, and establish a system for organizing schedules, storing important papers, and displaying reminders. Never forget a project due date or an athletic schedule again with a shared family calendar.
3. Organize the Pantry
First, completely clear your pantry area of food and miscellaneous items, discarding expired or unwanted items as you go. Next, clean the shelves and replace shelf liners as needed. Before putting food back into the pantry, sort items by type. Canned fruits, soups and vegetables share a group together, while spices form their own category. Use a spice rack to store spices, placing the items you use most frequently at the front of the rack. Now that the pantry is empty, clean and its contents are grouped by categories, take a look at the design of the space. Consider how you can organize your food items based on their use in order to make it easy to create quick breakfasts and bagged lunches. For example, everyday supplies should be within easy reach, while lesser-used items can occupy higher shelves. Stock up on all of the supplies you will need for the upcoming semester, including lunch sacks, sandwich bags, packable snacks, and disposable cutlery. To make it easier to create your shopping lists, add a small whiteboard to the door of one of the pantry cabinets for family members to indicate when inventories of favorite snacks are running low.
4. Create an Efficient Workspace
Set up an area dedicated specifically to doing homework. Whether this space is in the home office, a corner of the living room or in their bedroom, your kids will be able to concentrate and work more efficiently when their workspace has everything necessary to complete their work. Discard old notebooks and worn-down pencils and replace them with new ones. Use drawers or wire baskets to store fresh paper and other school supplies.
5. Deep-clean the Home
As the fall season gets underway, take the time over a weekend to thoroughly clean the entire house. It is so much easier to get into the rhythm of a new season when everything is in order at home. Start with the kids' bedrooms, clearing out the entire room and sorting old toys, clothes and books to donate or sell. Use a closet storage system and an under-the-bed organizer to keep stray belongings from cluttering the room. Next, move on to the bathrooms and organize the cabinets and drawers so that each child has everything they need to get ready for school in the morning. For younger children, hang a morning schedule on the mirror to remind them of daily hygiene routines they may not have made into regular habits yet. After cleaning the bedrooms and bathrooms, concentrate on social areas of the home. Donate or sell items you no longer want or need to keep the clutter to a minimum.
Now is the best time to assess your home organization strategy and prepare for the busy back-to-school season. Arizona Garage & Closet Design provides high-quality custom cabinetry, garage flooring and organization systems to help your family stay organized in every season. To schedule a free in-home consultation with a Scottsdale custom home organization system designer, contact Arizona Garage & Closet Design.
{{cta('f32cfeeb-f400-4f06-8362-c7bcf8ae9314')}}