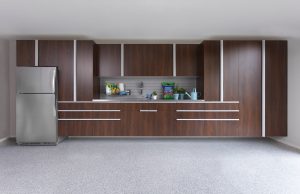 Phoenix weather is gorgeous right now and it is the perfect time to do some work in the garage. From custom cabinet designs to coated flooring, Arizona Garage and Closet Design can help you create the space you have always wanted.
Spending time outdoors is healthy for both mind and body.  We know you need space to store your bikes, sports equipment and maybe even that ATV so you can get out there and adventure! For some outdoor inspiration, click here to see some of our favorite hikes in the valley.
Customized Storage Systems
The first step to designing your custom garage storage system in Phoenix is to think about what you want to have the space to do. Do you have a lot of tools and need a workshop space in your garage? Consider a designated workbench area combined with our slatwall panel storage system that attaches to your garage walls. A variety of specialized accessories can be hung from the horizontal grooves of the panels. Accessories can be mounted and adjusted to your specifications and can even be rearranged later if your needs change. We can also install larger hook sets, baskets or a mounted hose holder to store all your sports equipment, tools and cleaning supplies. This will allow for maximum versatility and will provide you with a sturdy storage system that will last.
Cabinets
Garage cabinets are essential to your custom design plan. Our professional team will create a free 3D rendering of your ideal garage. You will be able to map out where you want and need your cabinets to be. Choose from a wide variety of colors and styles to design the perfect look. We can create a system that will accommodate a wide variety of items – even a garage refrigerator! All our wood products are guaranteed with a lifetime warranty. If cabinets crack or malfunction during normal use, you can count on us to replace them. At Arizona Garage and Closet Design, we are committed to providing top-quality products with top quality customer service.
We want to make sure your garage goes from a catch all to a place that allows you to do it all. Your time is too precious to waste searching for your hobby gear or sports equipment. Let us help you get to doing what you love with a custom garage storage design today!