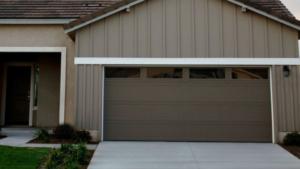 It's no secret that the garage, originally meant to be just for your car, has quickly become the catch-all space for storage items. It's where you keep your power tools, your workbench, and your holiday decorations. It may even be a partial home-gym.
While there's nothing wrong with your garage being multi-faceted, it's all too easy to let your garage become a cluttered mess. In fact, about 25% of people with two-car garages don't have room to park their cars inside them and only 32% have room for one vehicle.
If you're tired to not knowing where anything is in your garage and you're ready to give your hobbies the respect they deserve, here are a few ways to give your garage a serious makeover.
Install built-in shelving. Nothing transforms a garage faster than a built-in shelving system for great organization. Closet designers and contractors can install sturdy shelves in your garage that utilize vertical space to neatly hold storage bins, yard tools, power tools, and hardware. Installing a pegboard can also give that additional "wow" factor, and pegboards let you display your tools in a way that's both artistic and functional.
Give yourself a new garage floor coating. Your garage floor has a bigger impact on the way your garage looks than you'd think. Consider how your living room floor would look if you had oil-stained concrete floors rather than hardwood or carpeting. Not a good look, right? It's not a good look for your garage, either. A new garage floor coating can make your garage look brand new. Epoxy flooring, in particular, is not only highly durable and easy to maintain but it also comes in a wide range of colors so you can customize your garage to your style.
Light up your garage the right way. Garages tend to be dark and spooky. This can be a problem when you're working on your car, woodworking, or other projects that require attention to detail. The good news is that a proper lighting system with 60-watt daylight-tone bulbs can keep your garage from looking like a dungeon.
Looking to give your garage a facelift? We've got you covered. Arizona Garage and Closet Design offers gorgeous garage storage cabinets and garage epoxy flooring to make your garage a place you'd truly love to work in. For more information about our garage organization systems and services, contact Arizona Garage and Closet Design for a consultation today.