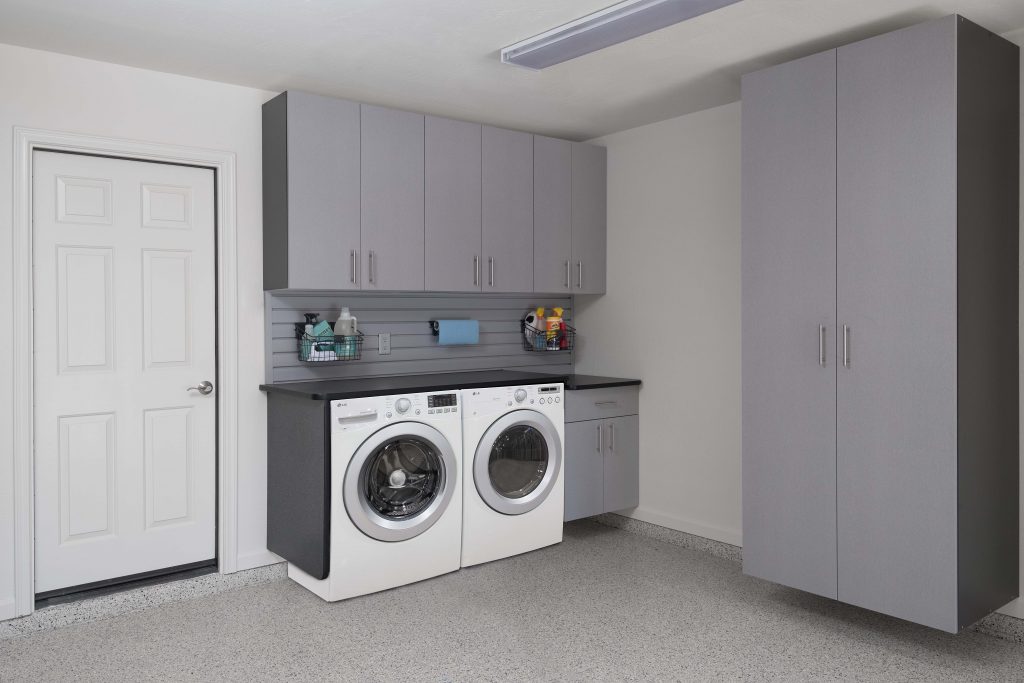 For Arizona homeowners, maximizing home storage space is of utmost importance. Home builders frequently forget just how much time is spent in the laundry room – especially for large families who need to do multiple loads each week. We believe that laundry day shouldn't be a chore. Installing a laundry room in your garage gives you control over the design of the space. It can even be built right into your existing garage organization system. Keep reading to learn how your family can benefit by moving your washer and dryer to the garage.
When it comes to the family, you want the cleanest clothes possible. It's tricky to give your family the best with piles of laundry overflowing into a tiny space. For a truly organized home, you'll want to keep the laundry room clutter free as much as possible. Moving your washer and dryer into your garage means getting unsightly clothes out of your living space and tucked away out of sight. You might want to consider moving your laundry area to the garage for the following reasons:
Washing machines and dryers are loud, which can be quite a nuisance. Moving your laundry room out of the home means you won't have to listen to the machines run during movie night or while the kids are napping.
Young children are notoriously messy. Putting the washing machine in the garage allows you to throw dirty clothes in as soon as you got home to prevent set-in stains.
When you need to wash a load of clothing but you're in a hurry to get out the door, you can quickly throw it in and let the washing machine run. It's the first thing you see when you pull into your garage, so you'll be reminded to switch it over to the dryer. Gone are the days of forgotten laundry!
Garage and Laundry Room Solutions Available
If you're worried about your garage being dirty or difficult to clean, there are ways to make it a better option for your laundry room. Our team can resurface your flooring in a colorful epoxy surface that is non-slip and easier to clean than the typical cement flooring we find in unfinished Arizona garages. By placing epoxy flooring down, you'll make your garage feel more inviting.
Our team will work with your to combine your garage and laundry room storage solutions to fit all your detergent and cleaning supplies. Even with your new laundry room space, it's still possible to have plenty of storage space for all your garage items. No matter the size of your garage, we'll evaluate the space and determine your laundry room design accordingly. Consider adding features such as hanging rods, built in laundry baskets, and stow away ironing boards for easy access to what you need most.
You can view all our available garage cabinets online. Our systems can be installed to accommodate your washer and dryer as well as added storage for laundry essentials. If you're thinking of moving your laundry room to the garage to free up valuable living space inside your home, please contact us for a free in-home design consultation.